Niles Scream Park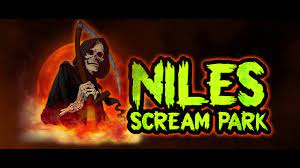 The Niles Haunted House is one of the best scream parks in the nation. Being voted best in the country by the Coaster Nation Annual Halloween poll in 2015, 2016, 2018, and 2021, the haunted house is sure to be eventful. With new houses and themes every year, you will be sure to have an enjoyable experience every time. Niles Haunted House has been a go-to activity for many locals during the Fall season. Opening as early as the first week in September, it gives people plenty of time to go and have a fun night out. However, it gets busier close to Halloween. It is open Friday and Saturday nights from 7:00-11:00 pm and also has a two-day "Blackout" experience on November 4th and 5th. 
The prices vary for what kind of ticket you buy, but the most popular would have to be the Frightful Nightful pack which is $40.00 before tax. This ticket gets you into all of the houses, the hayride, and the Field of Screams, not including Hooded. The most expensive is the Frightful Nightful Plus, starting at $45.00. It is the same as the Frightful Nightful Ticket but includes Hooded. The next most popular ticket is Triple Dog Dare which starts at $31.00, and gets you into the main haunted house as well as the two smaller ones. Other tickets are sold individually per house, and range from $10.00 to $22.00.
The main attraction at Niles Scream Park is the Niles Haunted House. It is the biggest house in the entire facility and is loaded with jump scares, strobe lights, scary music, and exceptionally good actors. The main house stays the same every year, although there are slight alterations made every now and then. Accompanied by the main house are two smaller houses, this years being the Sinister Streets of Salem and The Evil Estate. This year's overall theme is Practice of Witchcraft and all throughout the houses you will see details regarding the Salem Witch Trials. Although these houses are quick, they are still guaranteed to give you a scare. These two houses also change every year to match with the new theme, so when you visit, you get a taste of the original haunted house, as well as a little taste of new thrillers. The other main attraction at the Niles Scream Park is the Field of Screams. This maze is one of the longer houses at Niles and consists of mainly outdoor thrills. 
Not only does Niles Scream Park offer haunted houses, but there is a haunted hayride, mini escape rooms, ax throwing, and a terrifying "Hooded" experience for those 18 and older. Also, any attraction wouldn't be complete without some type of food and drink options to enjoy in between thrills. Niles offers a wide variety of foods to snack on, sweet treats, and beverages. So, if you ever need a break in between the houses, you can always stop and relax with a classic funnel cake in one of the designated seating areas. 
Going into more detail about some of the smaller attractions, Hooded is for those who are eighteen years of age or older, and is one of the scarier attractions in the park. You have to wear a hood over your head and hold onto a rope as you are guided through unknown terrain. A little twist about this attraction is that the actors are allowed to touch you. You have to sign a waiver to participate, but once you do, it is just you, the actors, and darkness. One of the most popular days of the Haunted House season is Blackout. Although it is only two days, it attracts many thrill-seekers who want to experience it. When you enter the park, you are given a glow stick and nothing else. The entire park is in total darkness, and you must make it through the houses with no other light source than your glow stick. Most people enjoy this attraction because it is one of the most exciting and scariest out of all of the days of operation. It is sure to give you a good scare as well as a few heart attacks, but is nevertheless enjoyable. 
Some fun facts about the Niles Haunted House is that it is not only for the pure enjoyment of thrill seekers, but it also helps raise money for children's organizations and other charities. Last year, they raised $125,000 for more than 50 organizations. Also, since 1996, more than $2,200,000 have been donated to organizations. All of the actors that you see in the actual haunted houses, as well as the ones who walk around the park and scare customers, are all volunteers. There are approximately 150-200 volunteers per night to help make the Niles Scream Park experience the best it can be. 
Niles Scream Park is a great activity to plan with friends and family, and is suggested for those who love a good scare. The Haunted House isn't open for very long, so plan to go a couple times if you are one who really loves the Halloween season.