The Curse of the First Time ND Head Coach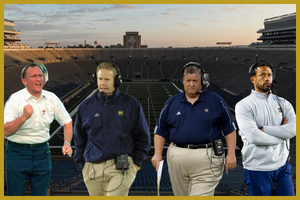 At the beginning of this season, many Notre Dame football fans believed the #FreemanEra was going to begin with a great 2022 season for the Fighting Irish. After losing their first two games of the season, Notre Dame fans began to criticize Marcus Freeman's play calling after Notre Dame lost the home opener against Marshall. Just two weeks later, the belief in Freeman is back. After earning their first win against a then undefeated California team and again last weekend at North Carolina, the Irish record is now back to .500 at 2-2. With former backup QB, Drew Pyne now starting for the Irish, the team now looks ahead to their next challenge on October 8th. The team will head west to Las Vegas for the Shamrock Series game against 19th ranked BYU. 
Going back to 1980 and prior to the Marcus Freeman era, Notre Dame hired three first-time head coaches. None of these coaches reached the expectation of winning a national championship while at Notre Dame. On average Gerry Faust, Bob Davie, and Charlies Weis only won 56% of their games, well below the standard set by Rockne, Leahy, Parseghian, Devine and Holtz. Along with that, none got out of their first four games without a loss. Charlie Weis fared the best at 3-1 while Bob Davie went 1-3. 
The highlight of Faust's tenure may have been his first game. The Irish defeated LSU in the first game of the 1981 season and quickly moved to the #1 seed in the polls. The season went downhill after that, as the Irish finished 5-6, Notre Dame's first losing record since 1963. Faust's time as the head coach at Notre Dame ended with an embarrassing 58-7 loss to Miami in 1985 after five seasons. During Fasut's time at Notre Dame, the Irish never won more than seven games in a season. The highlight of Davie's career at Notre Dame was the undefeated 2000 regular season. That season ended with a dismantling Fiesta Bowl loss to Oregon St (41-9). Davie's career ended after a 5-6 losing season in 2001 where they didn't appear in a bowl game for the second time in three years. Charlie Weis's most memorable moment may have come in a loss to USC in what was called the "Bush Push Game" in 2005. One of the lowest points in his Notre Dame career came in 2007 when Navy defeated Notre Dame for the first time in 43 years. That season, Notre Dame went 3-9. Weis's time at Notre Dame came to an end after a 6-6 season in 2009. In his five years coaching, he led the Irish to three bowl games winning only one, the Hawaii bowl in 2008 against Hawaii.
All three of these coaches recruited well, and landed top ten recruiting classes, but ultimately their lack of experience led to unsuccessful seasons by Notre Dame standards. Marcus Freeman is viewed as a strong recruiter but he will have to overcome the historical trend of failure of first time head coaches at Notre Dame. 
This season will be the first chapter in Marcus Freeman's story at Notre Dame. The Irish do not have an easy schedule ahead with multiples games against currently ranked opponents: #5 Clemson, #6 USC, #19 BYU. With "QB1" Tyler Buchner out for what is most likely the entire year, Notre Dame's season is still a big question mark. They have shown glimpses of the team that most fans expected, but struggled early on. The season will come down to the Irish's ability to play well against top ranked teams while being led by a first time head coach and backup quarterback. At this point a winning record is the main goal for Freeman's Irish. With that in mind, a bowl victory this season may be the first indicator that the outcome of Marcus Freeman's tenure at Notre Dame might play out differently than those of former first year head coaches.