Kylie Freymuth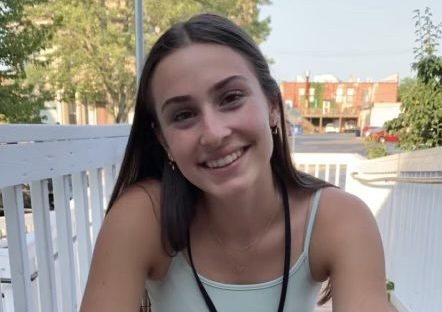 Kylie Freymuth is a driven and passionate student at John Adams. Over the course of three years, Kylie has participated in many different clubs and activities inside and outside of the school. She has devoted much of her time to the following clubs: National Honor Society, Spanish Honor Society, Spanish Club, Youth Leadership South Bend Mishawaka, Student Government (Senior Class President) and JAVA (a board member). Kylie is also a partial IB student, currently taking 5 IB classes. Kylie states, "Coming into high school, I didn't really know what to expect. I did know I wanted to get involved with school activities and build connections which is something I've succeeded in." 
Kylie is most driven to get involved around the school to push herself and to find ways to make new friends. She feels it is most important this year to reconnect with old friends and gain new friendships after the tough year with virtual learning. Along with motivating herself more, Kylie mentions, "Growing up, I had a hard time with self identity so I wanted high school to be a time to find myself and grow as a person."
 Kylie believes that she has accomplished this step in life, but still knows there is a lot more to learn. In her previous years at Adams, Kylie participated in both travel and high school softball. With sports taking up much of her time, she found it hard to join any clubs or extracurriculars at Adams. Kylie notes that after she stopped playing, she found it a lot easier to devote her time to trying out new clubs and finding different opportunities the school had to offer.
Kylie values her relationship with her family the most. Throughout e-learning, despite the many cons to staying at home, Kylie most enjoyed staying home with her family and spending more time with them. She believes that it brought them closer together from the chaotic work and school weekdays. 
Kylie's friends had nothing but good things to say about her. They called her "a creative leader" and "dedicated to the work that she does." Kylie's friends also describe her as, "very hardworking and determined, very goal-oriented and will do whatever needs to be done to reach her goals. She is caring and compassionate, and would do anything for the people she loves." 
Starting high school at a new school and in general can be terrifying.
 "Don't worry, and to know that everything works out the way it should," are words Kylie would tell to her freshman self. She adds, "keep trying your best even when things get hard, know it is okay to ask for help and look at the positive in every situation." 
Kylie feels best knowing that there are always supportive people (family, friends, and even teachers) around. Words of encouragement to underclassmen she has are, "Try your best. School and life in general is challenging, but eventually all your hard work will pay off. Join clubs and participate in activities while you can, high school really does fly by." 
Throughout Kylie's senior year at Adams, she hopes to make up for lost time due to COVID-19. Creating new memories and connecting with new people are all on her senior to-do list. After high school, Kylie plans on majoring in physical therapy. She plans to attend Marquette University in Milwaukee, WI, but as of right now she is undecided. The Tower wishes her all the best in her new journey of life to come.