Fisher Wins Adams 2020 Teacher of the Year
And speaks out on issues in the public education system
English teacher Ms. Fisher has been named the John Adams High School Teacher of the Year after receiving the majority of nominations from other teachers inside of the school. From there, the corporation-wide winner will be nominated, who will then continue to the state level. Although there are no specific requirements for the nomination the winning teacher should "go beyond classroom duties and make relationships with students," she says.
Fisher was surprised to win: "I looked at the list of teachers that were nominated and I told my husband, 'I am so honored to be on the same email as these teachers'," says Fisher. "I have the world of respect for every single teacher that was nominated and I know that they are all doing incredible things in the classroom.
Although Fisher's goal for teaching has changed throughout her years of experience, she still views her career with passion. Originally, her love for literature motivated her, as she wanted to foster this connection with her students. However, she says she continues to teach because of the valuable relationships she can build, which has become her favorite aspect of her career. "Honestly, if I were teaching literature all day I don't think I would actually want to be a teacher," she comments. "But because I am making relationships with students and I get to teach literature, that's what has kept me in education."
Despite Fisher's personal success in the classroom, she still hopes for institutional change in the public education system, both in the corporation and beyond. "I see so much dysfunction and corruption in education, so that's really frustrating," she comments. "But I think if there was one thing, one overall thing, to change it would probably be the amount of responsibility that is placed on teachers." She believes that the expectations for teachers are much too high: "they are unreasonable and unrealistic."
Not only is Ms. Fisher an excellent English teacher, but she is also a representative of the SBCSC teachers union. Although she hopes to use her platform as Teacher of the Year to advocate for changes, she understands that many of the problems originate from the state level, leaving the union's abilities undercut and limited. "It's the issues that are coming from Indianapolis and the statehouse that are impacting us on a daily basis here in the school. I would love for more people to be involved in the union," Fisher says, "but I think ultimately what we need is people to go down to their legislatures and advocate and force them to see how they are impacting kids in Indiana every single day." 
Although she has done her part to bring awareness to state legislators, Fisher remains somewhat pessimistic about the prospects for public education. Fisher traveled down to Indianapolis last November for the Red for Ed event, advocating and with thousands of teachers for increased teacher compensation, fewer standardized tests, and other issues. She worries, however, that the lawmakers did not hear the protests, judging by the way they have voted so far in 2020. "I don't have confidence that our legislatures are going to do the right thing without more persuasion from teachers or the public. . . At this point, the only way I really see any change happening is doing something more drastic because they really and truly slapped us in the face. Nothing has changed, they've consistently voted against things the union has pushed for." 
At the corporation level, Fisher critiques the lack of specific information being offered to the public, exemplified by the referendum that is to be put to a vote on May 5, possibly granting almost $75 million to the corporation. Although Fisher supports the referendum personally, she does not believe that the corporation has fully specified where the money will go, which would possibly jeopardize the outcome of the vote. "The corporation needs to put in a little more legwork to show the public, and to show teachers, what impact the referendum is actually going to have," Fisher comments, or the public might not understand its full importance.
She sees a similar problem in last Tuesday's joint meeting between the School Board and South Bend Common Council. "Ultimately it boils down to the communication of important issues. I'm not just going to show up to a meeting that is going to take two hours away from my time with my daughter unless I know specifically what is going to be talked about and specifically who's going to be there and specifically what I'm advocating for." The political impact of public schooling is undeniable in our current day and age, and although Fisher is doing everything she can to create positive change in both the state legislature and local corporation, she is aware that in order to make progress the entire South Bend community needs to be united. 
In that cooperation is the one thing that she wishes everyone knew about the corporation: not all of the schools are the same, and all present unique differences. "We're so quick to label Washington, Riley, Clay, and Adams as this one thing they are, and they're either good or they're bad," she says. "I wish that people could see the unique benefits that every school has to offer."
Ms. Fisher has made and continues to make a powerful impact on not only her students but also on the entire SBCSC community as she relentlessly fights for public education. From her deep relationships with her students to her strong voice to speak out, she clearly deserves the title of 2020 Adams Teacher of Year.
About the Writer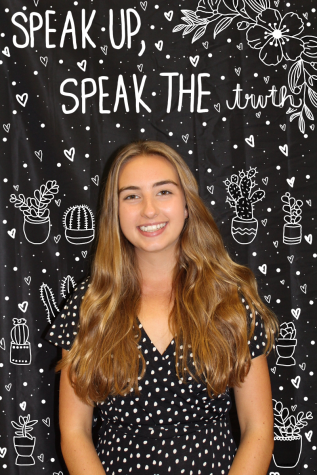 Claire Stowe, Editor-in-Chief
Claire Stowe, an Adams senior, is Editor-in-Chief of The Tower, her second year with the position. She has covered a variety of topics as a reporter, including...