Black Inventors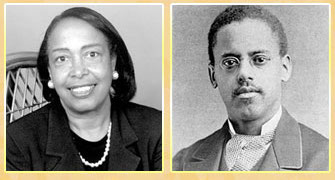 We all know Martin Luther King Jr., Rosa Parks, Harriet Tubman and Malcolm X, but what about some of the black inventors in history? Well here are two you should know about. 
Lewis Latimer: Lewis Latimer was born on September 4th of 1848 in Chelsea, Massachusetts.  His parents escaped slavery, only for his father to be captured later on and be defended on trial by Fredrick Douglas. At the age of 16 he lied about his age in order to enlist in the US Navy during the Civil War. After being released he taught himself mechanical drawing and drafting, and then the firm promoted him to draftsman where he assisted other inventors. Latimer helped Alexander Graham Bell patent the telephone, and helped Thomas Edison patent the light bulb, and figure out how light worked. He also invented the original air conditioning unit and the railroad car bathroom sometime in the 1880's.  
Marie Van Brittan Brown: Marie Brown was born on October 22nd, 1922 in Queens, New York. In 1966 Brown was inspired to make the home security system, by the high crime rate in her neighborhood, and the police response was slow. She wanted to be able to see and talk to the person and notify the authorities with the push of a button. She made it to where the monitor could be placed anywhere in the house and you would be able to see who was at the door and talk to them. If someone felt threatened or felt it was an intruder, they could press a button and the police would be notified immediately. Brown and her husband filed for a patent for the invention on August 1st, 1966, and was approved December 6th, 1969. Her invention gained well-deserved attention and she then went on to win an award from the National Scientists Committee. Later on her daughter, Norma Brown, went on to become a nurse and an inventor, her mother.