Broadway backstage with Jon Krause
Taking your seat in front of the Broadway stage. You listen to the announcements over the PA to turn your phone off (for real, turn it off). The Lights dim, the music starts, and the curtains open. It all seems so streamlined, you may have never even thought about how. But behind every Professional show, there is a professional stage manager. I had the amazing opportunity to see this process first hand with stage manager Jon Krause as he ensured the shows run smoothly and safely. After being connected through a mutual friend, Krause invited me to visit for a meeting in New York. Here he gave me a tour around the theater and allowed me to watch a show from his perspective. He has been part of some big shows, working with big name stars like Julie Andrews (Victor/Victoria – 1994) and Sutton Foster (Anything Goes – 2011) "I've had the privilege of accompanying three shows to the Tonys: Cabaret (1998), Anything Goes (2011)" and, when we met, "Beautiful – the Carole King Musical. (2014)"
In a smaller production the management usually just consists of one person, the stage manager. However, in full scale production that job is split into 3 roles: the production manager (PM), the stage manager (SM), and assistant stage manager (ASM). Krause took me below the stage to introduce me to some more of the staff. "The PSM is the boss. He/She does all the scheduling, deals directly with all the creatives, communicates all aspects of developments in rehearsal to all departments, and most importantly, makes sure the show happens 8 times a week" But Jon explains how he usually works as a stage manager, whose job looks a little different. "The SM and ASM teach the crew all the cues involving the scenery, props, wardrobe, etc. During the technical rehearsals, rule number one is 'safety first. In this age of very complicated moving parts (turntables, trap doors, flying, highly sophisticated automation) has to be a priority above all else" 
Krause explained that SM's role is very unique in that they oversee the production from start to finish. And, to make things more complicated, their job changes at each step of the process (while always keeping the primary objective of safety). "During the rehearsal process the SMs are responsible for providing a comfortable and safe environment for the creative process. There are usually no crew members during rehearsals, so all set pieces, props, and wardrobe pieces are handled and managed by the SMs. The script frequently needs to be up-dated, all the blocking needs to be recorded, and all pertinent events are to be communicated to each department*" 
Once the show opens, it becomes a whole different story. You may already be familiar what a day of performance looks like for actors, but for a stage manager it's much longer. "On an average day, the SMs and crew are called an hour and a half before curtain. On one-show days rehearsals take place to keep the understudies up to speed and to get replacement actors ready. The SMs are responsible for communicating changes for that performance to the house manager and ushers. Our union** requires that two out of three things must be satisfied: 1.) An insert, explaining the change (i.e. ' At this performance, the role of ___ will be played by ___') is placed in the program. 2.) The understudy board (with the same information) is placed in a prominent position that the audience can see on their way into the theatre. 3.) An announcement is made right before the show begins". 

We took our place in the stage manager's booth about 10 minutes before curtain. Jon provided me with a headset so I could hear how the management staff communicate during the show. I took the opportunity to get some advice and ask about what people look for in an SM. "Attention to detail is key. The ability to work and get along with EVERYONE is very important. From producers, directors, actors, crew members, front of house personnel, etc. You must be able to communicate effectively with all kinds of personalities. Organizational and computer skills are just as important" He stressed  the importance of learning all sides of production. "Knowledge in scenic design, lighting design, sound design, costume design, hair and make-up, directing, acting, music, it will all come in very handy in a career in Stage Management" 
Jon called the curtains and the house went quiet. What followed was a flurry of lighting and sound queues, set movements, and place calls. It makes you realize how much communication it takes to run a simple blackout, let alone a full musical number. This isn't even the full extent of what I was shown. "Other duties include making calendars, injury reports, ordering inserts and
sliders, managing office supplies, spike mark maintenance, etc. These can be
divided among the SMs, geared toward each of their strengths". 
It's exhausting to watch, but Jon has no intention of stopping any time soon. He may be taking some time off now but he's got "a few things brewing for the spring". Based on what I'v seen, whatever it is, its gonna be great.
Got a Broadway job you want to seen covered? leave a comment and we will put them in the spotlight.
*Some jobs may overlap in the rehearsal process. In this case, sometimes these jobs will coincide with the role of the dramaturg, found Here
 **Actors Equity Association. Often referred to as just "Equity". The American labor union that represents actors and stage managers.
About the Writer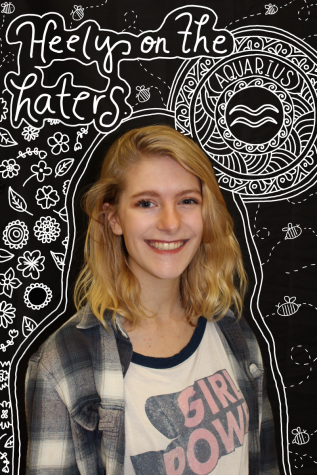 Mimi Panzica, Reporter
Mimi Panzica is a current senior at John Adams High School and is in her first year at The Tower. Born and raised in South Bend, Mimi has taken an interest...