Drama Club Takes Adams to Narnia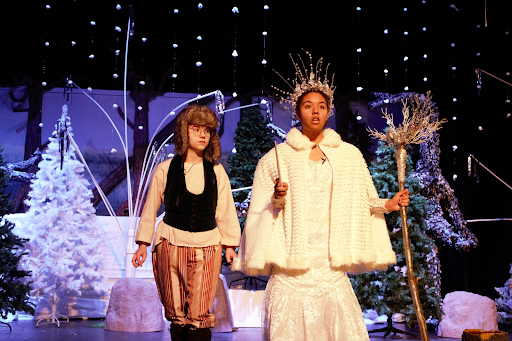 Nearly 350 people filled the seats of the John Adams auditorium to see the drama clubs winter production of The Lion, the Witch, and the Wardrobe, making it one of the largest turnouts in recent history. I can see why, too. The big name appeal of the show and the shiny set was sure to allure anyone who happened to peek their heads in before the show. 
To be honest, the bar was set kinda low for this one. Our drama club has had a rocky past when it has come to the quality of our productions. But I can confidently say that they exceeded my expectations. I have definitely seen far worse. For a high school play it was great. 
The show really shined in the first act. The auditoriums new LED light system perfectly complemented Katelynn Elliott extensive set to create a winter look that astounded the audience. It seemed to lose a bit of its magic in the second act, however. Some scene changes dragged a bit too long, occasionally feeling pointless once the curtain opened (I'm looking at you, Tumnus' destroyed house. You could have stayed offstage). The music did a fine job filling the dead space, but that minute without action can really lose an audience's attention. 
Even though the wording in the script itself was terrible (I don't think any actors would protest to that), the show was easy to understand thanks to outstanding performances from a few key actors. Kudos are definitely in order for the dynamic duo, The White Witch (Adonnika West) and her Dwarf (Ele Anderson). I got hyped every time I saw those two enter the stage purely for the clear facial expression from West. I really believed that the Dwarf was willing to follow her to the ends of the battlefield. Additionally, the chemistry between the Beavers, (Joyce Nickelson as Mrs. Beaver and Hannah Tobias as Mr. Beaver) was genuinely adorable. Even when the attention was not on them, they stayed in character with small pecs on the cheeks or tender embraces. Staying in character, especially during climactic scenes, can almost instantly make a character believable. Nickelson was one of the biggest surprises for me.
There is nothing I want more from a show than believability, and a few members of the cast really delivered on that. I felt a clear sibling dynamic from the main four, especially Peter (Tim Hartzer) and Edmund (Mag Blanchard). Susan (Megan Swanson) was giving me strong big sister vibes that I was really loving and Lucy (Hannah Steffen) was just adorable. I do wish I could have seen a little more feeling from Steffen especially during the more dramatic moments. She felt as if she had not quite connected to Lucy quite yet, which is common for new actors. The character had a lot to play with emotion-wise and I just didn't get to see that emotional arc I know was there. However I understand that this was an extremely hard roll to make your stage debut in and Steffen handled it great. She has great potential and I can't wait to see what she does next. 
I felt a similar feeling about Aslan (Jelani Cotton). Another extremely difficult roll seeing as he had to play Jesus*, so I completely understand the struggle. Like before, I would have loved to see more heightened emotions during the dramatic (SPOILERS) death scene and eventual resurrection, especially seeing as this was not his first time on stage. Unlike Lucy though, the character has less to work with. Aslan was written very static with little change in 
A common mistake with many members of the company was a lack of cheating out.** I saw a lot of actor's sides, which becomes a huge problem with characters without mics. If your voice isn't facing the audience we cannot hear you, and we REALLY want to! Many of my issues in the production simply come from working with newer actors, which is perfectly fine! This is exactly what high-school theater is for. Something you may not have known was that director (Lillie Rozycki) has never directed a show before. If I had not known that beforehand, that would have been an easy thing to miss. The staging was very fluid and natural looking. Perhaps there may have been a bit too much movement during monologues, but that was such a minor part of the show, it didn't take much away from the performance.
I noticed a lot of growth from our more seasoned actors, particularly from Mag Blanchard. He is definitely learning to control his movements and harness his naturally large personality, using it to add a comical, childlike feel to the character. This contrasted perfectly with a very mature disposition from Tim Hartzer that I had never seen from him previously. 
Overall, the show was really good. Many of my critiques could be attributed to the number of new actors on the stage. With a little bit of practice and maybe a few classes, Adams drama club could have a professional level company. Lion the Witch and the Wardrobe did an astounding job spotlighting all different facets of theater. From the lighting, to the sets, to the amazing costumes. This reporter was very impressed. 
*for those of you who don't know, Aslan is literally a direct allegory for Jesus. 
**Cheating out is making sure you are always facing the audience so they can see your face.
About the Writer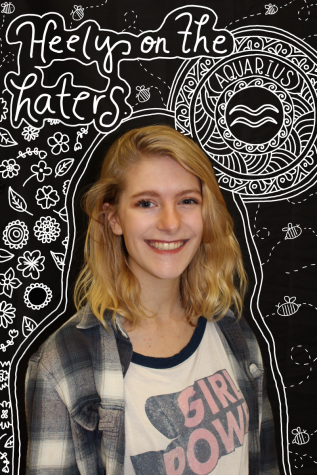 Mimi Panzica, Reporter
Mimi Panzica is a current senior at John Adams High School and is in her first year at The Tower. Born and raised in South Bend, Mimi has taken an interest...