Brendan Quinn
Hang on for a minute...we're trying to find some more stories you might like.
Brendan Quinn is a senior at John Adams High School. He is a very determined, caring, and hard working person. He has been part of the cross country team all four years attending Adams, while two of the years have been varsity. Brendan has also been apart of John Adams swim team for three years, all of which have been varsity. When asked why he got interested in these sports Quinn replied with, "I started cross country my freshman year with the idea of only making friends. Little did I know, that those friends would become my best ones yet. My team means the world to me." Quinn has a love for running that he plans on keeping forever, but he also needed a sport to do in the winter. So he decided to join the swim team here at John Adams. "Apparently it was the right choice because I quickly adapted to the sport and made the varsity team fairly quick. I love the way swimming makes your body feel, the fatigue after workouts and the ability to feel yourself getting better with each practice is something that I cannot explain."
With different dynamics from both coaches and teammates Quinn says "The cross country team is extraordinary! The coaches are very personalized and adapt to any special circumstances that may arise, but they also know the meaning of hard work and will push you to your limit." He says that the thing he'll miss most about cross country is "The meets, I'll forever miss warming up with the team and having everyone scream and cheer you on. Without them I would have never pushed myself to run an 18:39 5k." As well for the swim team, "The team is a close knit group of people who always support each other through thick and thin, this includes the coaches as well. The coaches are always critiquing you on anything that could be improved upon, they do this of course, with our best interests in mind." "I'll miss the people I swam with. The people are so open to new swimmers and make you feel like you actually belong. I think that is what I'll miss most, that sense of belonging."
Quinn's favorite thing about attending John Adams is "The opportunity and the friendship, as well as the IB program. It's unlike anything else offered by the SBCSC. The friends I have made here I know will always have my back and I will do anything for them as well." When asked what his favorite class was and why, Quinn replied with "IB History, I have always had an innate fascination with history, learning about something that happened hundreds of years ago seems boring to many, but to me it's as fun as competing in sports."
Other clubs and extracurriculars that Quinn is involved with are NHS(National Honors Society), National Society of High School Scholars, and the Albert H. Small Normandy Institute. His favorite extracurricular is "The Albert H. Small Normandy Institute because the work I did was for something much bigger than me and it was an honor to add to our history." About the Albert H. Small Ormandy Institute, Ms. Rhodes, the IB French teacher, and Quinn were one of fifteen student-teacher pairs from around the country who were accepted into the Albert H. Small Normandy Institute (in partnership with the George Washington University). The institute was funded by Mr. Albert Small, a real estate developer and philanthropist, who is also a veteran of World War II, as a member of the Navy. His goal for the Institute is to remember those who "paid the price of freedom" in World War II. Each student-teacher pair was to conduct research on a soldier from their town who died in the Normandy Campaign of World War II (D-Day-21 Aug, 1944), using obituaries, surviving records, and military personnel records, and write a biography on him. Quinn and Ms. Rhodes wrote their biography on "Private Nathan Frank Garnitz, a graduate of Loyola Chicago Pre-Med who worked as the manager of the rug department at Garnitz Furniture Store, which was located at the current location of the US Internal Revenue Service on Main Street," which eventually took over forty pages. All of the research occurred while they were to read excerpts from 3 books on D-Day mailed to them by the Institute and partaking in online discussions. After all of the research, during the time period of January-June, the duo was flown to Washington D.C. where, for five days, they listened to presentations on D-Day given by top history professors from GWU as well as guest speakers from the military, such as a West Point Graduate. Quinn stated, "We stayed in GWU dorms; A block from the White House, and toured important sites around the capital. Such as important graves in Arlington and the Holocaust Musuem, we even conducted research on our soldier at the National Archives Record Center. After these five days, they flew all of us, professors and Institute staff included, to Normandy where we toured key sites of the Normandy Invasion, and we went to all five beaches." Quinn was even able to give briefings at a key site at the site itself. For example, he gave a briefing about Pointe-du-Hoc at Pointe-du-Hoc. At the end of these fantastic tours, the duo went to the Normandy American Cemetery, where they gave a eulogy for their soldier at his grave. His biography was then submitted to the Cemetery as his official record. The reasoning behind this was because a fire in the 70s destroyed over half of the records on WWII Army soldiers, and now, out of the over 10,000 American men buried at the cemetery, the cemetery only has records for about 700 of them. What Quinn got out of the experience was, "This severely altered my view on what these men sacrificed and really put me into my place in the world; for the better. It showed me that our society and culture today is only around because of the sacrifice of those brave men who stormed the beaches and parachuted behind enemy lives.
The advice that Quinn gave for lowerclassmen that are struggling with juggling school, sports, work, and social life was "I remind myself of what my goals are, what my expectations for myself are, and what others expect of me. Doing this helps me to power through school assignments and it makes way for some free time later on that I spend with friends. This can help anyone, as long as you are determined to achieve your goals." Quinns plans after school are going different directions for a year as part of Rotary Youth Exchange. Or, if he decides not to, he hopes to attend Notre Dame where he would like to major in business with a minor in history. 
About the Writer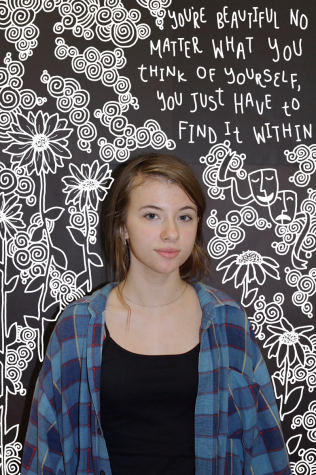 Veda Baker, Reporter
Veda Baker is junior at John Adams High School, new to Newspaper this year. Bright and confident, Veda is a hardworking and motivated girl. With her generous...