Athletes Recognized at 2019 Fall Sports Banquet
Hang on for a minute...we're trying to find some more stories you might like.
On November 14th fall athletes were recognized for their participation and accomplishments in their sports. Between Boys and Girls Soccer, Cross Country, Football, Cheerleading, Boys Tennis, and Volleyball many awards were given for Sportsmanship, Most Improved, and Most Valuable Player [MVP]. The Kiwanis Awards were also presented to one athlete of each sport who demonstrated sportsmanship, academic excellence, and superior performance. Many athletes were also recognized for their academic performance as a part of the Northern Indiana Conference All-Academic Team
Kiwanis Award Winners
Cheer – Alicia Jacobs
Girls Cross Country – Madeline Mischak
Boys Cross Country – Sami MIrza
Boys Soccer – Grant Wiarda
Girls Soccer – Logan Hansen
Volleyball – Aubrey Richardson
Football – Miguel Zyniewicz
Cheerleading
MVP – LaRiyah Petty
Most Improved – Naomi Presler
Sportsmanship – August Howell-Bey
Boys Tennis
MVP – Benjamin Guerrero
Most Improved – Vian Mariani
Sportsmanship – Jonathan Zapf & Peter Nagy
Girls Soccer
MVP – Alayna Wilson
Most Improved – Hannah Church
Sportsmanship – Jordan Mihut
Boys Soccer
MVP – Connor McKenna & Dimitri Hairston
Most Improved – Roberto Moreira & Zaid Delgado
Sportsmanship – Micah Fourman & Grant Wiarda
Girls Cross Country
MVP – Madeline Mischak & Ivie Skube
Most Improved – Italia Ramos
Sportsmanship – Monica Caponigro
Boys Cross Country
MVP – William Neubauer
Most Improved – Jackson Rancourt
Sportsmanship – Sami Mirza
Volleyball
MVP – Claire Scheffler
Most Improved – Megan Kroll & Grace Noble
Sportsmanship – Secilia Scheffler
Girls Golf
MVP – Selah Unwin
Most Improved – Lia Goesslin
Sportsmanship – Miranda Brewer
Football
MVP – Chase Trzaskowski
Most Improved – Joseph Phillips
Sportsmanship – Jacob Menninger
About the Contributors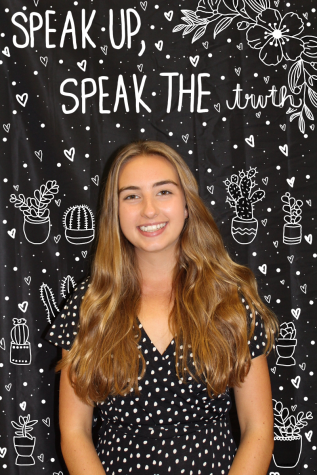 Claire Stowe, Editor-in-Chief
Claire Stowe, an Adams senior, is Editor-in-Chief of The Tower, her second year with the position. She has covered a variety of topics as a reporter, including...