Cameron Pierce
Cameron Pierce is an individual who cannot be adequately described in words. She has excelled in extracurricular activities, like Mock Trial, and athletics, as a member of the track team and former member of the soccer team. But what Cameron is best known for at Adams High School is her presence. She is the essence of a free spirit, and her vibrant and charismatic personality is what makes Cameron so unique. 
Cameron has been a part of the John Adams Mock Trial program since she was a freshman. "I think my experience with mock trial has been indispensable, and it has been a large part of forming who I am today." She has earned countless awards for being the "Most Effective Witness" at the regional and state levels. When asked about the feeling she gets when winning these awards, she said, "I mean, I definitely feel special. There's nothing like hearing your name called, but it's become more of a responsibility now more than anything." She then made sure to let me know, "It's still really fun though." In October of her senior year, Cameron also attended the Empire Mock Trial Competition in New York with her teammates. She described the experience as, "so much fun, bro. Just spending time with my friends in a different place allowed us to bond." For her, "it was all about the people."  Although Mock Trial is a big time commitment and a lot of hard work, Cameron loves it because, "it gives me an opportunity to show my talents and skills in a way that people aren't expecting, and I get to spend a lot of time with people I love and adore".
Cameron is also a thrower for the John Adams track team. When asked about her experience in track, she warned, "Don't get me started." Anyone who knows Cameron well knows that she loves Mr. Plasschaert, a history teacher here at Adams. "I love throwing a heavy ball 30 ft, but getting to talk with Plasschaert is always the highlight of my day." She concluded her statement by explaining, "I think participating in a sport in high school allows you to meet people and be friends with people you never expected. That includes the teachers and coaches who have become my mentors."
Cameron is also a partial IB student. Her favorite class is "probably HOA with Cline because I've learned a lot about how I can better myself academically, and it has inspired a love of history and anthropology that I didn't know I had. I also really appreciate his eccentric teaching style." Balancing difficult classes with other responsibilities can be tough, especially for someone as disorganized and spontaneous as Cameron. She revealed, "I not only struggle with being organized, but I struggle with turning anything in on time, ever. Just ask Ms.Stanton!" When asked what advice she would give to someone struggling with the same issues she simply said, "Sometimes, especially in academics, things suck. But you have to get them done or you will fail. Just get it done. Ask for help. Most teachers don't want to see you fail, they want to see you succeed."  
Although she's had plenty of great experiences at Adams, Cameron's favorite high school memory took place on an especially icy afternoon after school.  She said, "You rarely see all of Adams coming together unless it is a time of great need or great spirit. Last year when ice was covering every inch of the ground, I saw a lot of Adams students coming together to help other Adams students, and also watch them fall. It was a lot of fun." 
In the future, Cameron hopes to study Economics and Food Science at Penn State, but her ultimate goal is to be "successful in anything and everything, and I say that with every ounce of sincerity and seriousness"  Her advice to underclassmen is to "do better. Just do better. Figure it out, do better." 
About the Writer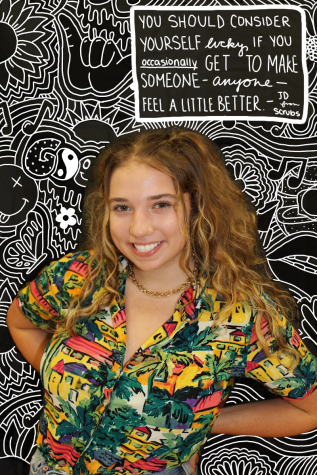 Ellie Graff, Reporter
Ellie Graff is a senior, now in her 2nd year of being a part of the newspaper. She writes articles on fashion along with other pieces on life in South...