Sami Mirza
Sami Mirza is a Senior here at John Adams this year, and throughout his four years of high school he has managed to achieve many impressive feats, and has taken an active role in developing Adams student community. He is in several extracurricular activities, and is an established member of the cross country team. Sami is also a committed member of the mock trial program and an IB ambassador, besides this he is a full IB diploma student, and still manages to perform well in his extracurricular activities. His recent work as an IB ambassador consists of going to middle schools and essentially advertising the IB program at Adams, along with trying to provide a good environment for students, when I asked Sami what he would like to say to incoming IB students he said  "Word of advice about the IB program, don't psych yourself out. A lot of work and assignments in the IB is doable, all of your tests are manageable, just focus on doing it instead of focusing on the difficulty of it." He also answers questions, and volunteers during school events, like the recent Parent-Teacher night, in which he was walking around the school and making sure everyone was able to find where they needed to go. Sami is also an accomplished member of his cross country team, with him recently competing in the semi-state competition with some other established Adams runners. He has managed to become one of the captains of the cross country team, and when asked about what made cross country so interesting for him he said that it was more about the team environment provided for him, the knowledge that everyone was working well together and providing a good environment for everyone involved, when I asked him more about how he felt about the cross country team he said "We could have advanced further, but I'm proud of how the team has worked together and supported each other this season, even though I won't be with the team next year I know they'll go far, there are some phenomenal underclassmen and juniors who will keep the team going." When asked about his personal life, Sami stated an interest in going into the production of video/film production, an interest which he gained early in his life, when he and his brothers made short films as kids. Later on in his sophomore year he took a photography class here at Adams, which served to cultivate this interest even more. He has done some video work for Mrs. Hernandez here at Adams as a part of his CAS project. He is also working on a promotional video for the band here at Adams. Sami stated that his interest in film is focused on it as more of an art form, seeing it as very focused on the content presented through visuals, and with him saying that it had the capability to convey some very amazing messages.
About the Contributor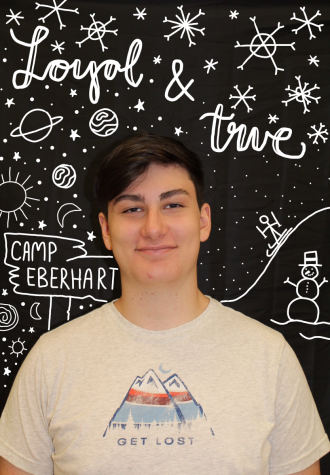 Zach Johnson, Reporter
Zach Johnson is super excited to begin his year in newspaper. As a senior, Zach has pondered the idea of a career in journalism, or fictional writing,...