Impeachment: What's Going On in Washington?
For the past couple of weeks, the question of President Trump's impeachment has been dominating the news cycle through brief glances into the current political turmoil throughout the administration. Democrat Nancy Pelosi, Speaker of the House of Representatives, announced the beginning to formal impeachment proceedings in late September, following the whistleblower complaint of improper relations between President Trump and Ukraine political figures. 
On August 12, a whistleblower filed a formal complaint to the House, claiming that Trump "sought to pressure the Ukrainian leader to take actions to help the President's 2020 reelection bid," specifically citing a phone call that occurred on July 25 between Trump and President Zelenskiy of Ukraine. The whistleblower alleges that Trump asked Zelenskiy to investigate former Vice-president Joe Biden's son Hunter Biden during this call, after allegations were made (many of which were later retracted and proven false) about the Bidens' business activities in Ukraine.  To some, this phone call has been viewed as the "smoking gun," and connections are being drawn between it and the tape that essentially led to Nixon's resignation after the Watergate scandal.
On September 24th, Pelosi accused Trump of "betrayal of his oath of office, betrayal of our national security, and betrayal of the integrity of our elections," opening the first phase of the proceedings. Currently, the House Intelligence Committee is in the midst of hearing testimony from a variety of involved individuals including Bill Taylor, who's testimony has arguably been one of the most crucial thus far. In a 15-page opening statement, Taylor testifies to a quid pro quo between the Trump administration and Ukraine, essentially involving Trump promising military aid in exchange for investigations into Biden's affairs and the 2016 election.
The majority of Democrats in the House support the impeachment inquiry; of all 234 Democrats in the House only 2 voted against formalizing proceedings on Thursday, a vote that passed 232-196.After Thursday's vote, the inquiry will move on to public hearings after previously being confined to private ones, and could eventually lead to the Judiciary Committee's drafting of official articles of impeachment.
The vote closely followed party lines with no Republicans joining the Democrats' cause. The White House has denounced the inquiry as unfairly "partisan," and Trump has condemned it over Twitter,echoing sentiments from this year's previous Mueller investigation by calling it "The Greatest Witch Hunt in American History!".
About the Contributor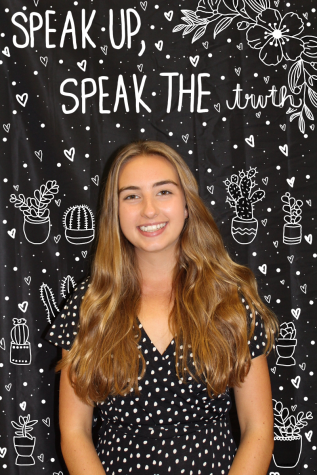 Claire Stowe, Editor-in-Chief
Claire Stowe, an Adams senior, is Editor-in-Chief of The Tower, her second year with the position. She has covered a variety of topics as a reporter, including...