John Adams Mock Trial Takes Over New York
This past month, two mock trial teams from John Adams High School joined forces to compete in the Empire Mock Trial Competition, a world class mock trial competition in the heart of New York. Each summer, Empire releases an extensive and difficult case that covers complex legal topics. Participants have the chance to test their critical thinking and communication skills against the best-of-the-best, in one of the world's greatest cities, while forming lifelong friendships and international connections, according to Empire. Even teams from Ireland, China, Britain, and more travel across the world to take part in the intense competition. 
This year's case was about a young boy named Timothy Tam who was born with a heart condition called dilated cardiomyopathy. The Tam family claimed that this condition was due to their apartment's failure to recognize and remove trichloroethylene from the air. The Tam family sued Castle Construction for negligence and damages. 
Two teams from John Adams collaborated on the case of Tam vs. Castle Construction. The defense team consisted of Reka Blakemore, Roy Bualuan, Ellen Graff, Seth Kirkpatrick, Cameron Pierce, and Claire Stowe from one of the senior teams in the school. The plaintiff was represented by Vanshika Dixit, Timothy Hartzer, William Henderson, Kasia Hochwald, and Sierra Weaver from one of Adams's junior teams, along with sophomore Mateo Graubart. Coaches Maggie Marnocha, Laura Plasschaert, and Heath Weaver helped the teams prepare for the competition ahead.
With little preparation, the team was able to land a spot in the top 20 at the Empire World Championship Competition in New York. No team from John Adams has ever done this well, and no team has even won an award there, until now. Cameron Pierce was awarded "Best Witness" while Roy Bualuan was awarded "Best Attorney." 
Pierce stated that "[Empire] was truly an amazing time for a lot of different reasons. First and foremost was the time I got to spend with my team, who I love, just hanging out around the city. It was just a relaxing time in the middle of a stressful year. And secondly, I got to spend time perfecting my witness work." 
When asked about the benefits of the Empire Competition, Pierce said "Empire… boosted both me and my team's confidence because we all performed really well. We expected to do our best but we didn't think that our best was actually good enough to win, much less win awards. So it was nice for the team to bond and just feel good about ourselves." 
Pierce recalls when her name was called first for a "Best Witness" award. She claims that it was "crazy hearing my name called… even then I still didn't really believe. Plus, I was wearing a cowboy hat so I was just a little bamboozled." 
Pierce's cowboy hat became an iconic symbol at Empire; not only for the team, but for the entirety of the Empire community. People referred to Pierce as the "cowboy hat girl" as she even went up to film a Tik-Tok on stage with one of the Empire officials. It is clear that Pierce's personality and talent really shined at Empire. 
Another award winner was Roy Bualuan for "Best Attorney." Bualuan explained how "the Empire experience overall was really fun! It was cool to work with new people and definitely more of a challenge considering we had a longer case than regular season coupled with less time to practice before the competition."
This year's empire case was a whopping 217 pages in total. This helped prepare the teams for the Indiana mock trial case that came out on October 25, 2019. Bualuan said that "the practice will help a lot during regular season but also in general. The experience with teams outside of Indiana is pretty helpful."
"As for the award, I was totally taken by surprise!" Bualuan exclaimed. "When they were calling out the 16 point awards I was thinking 'maybe' but I had pretty much tuned out by the time they were onto the 18 pointers."
Bualuan references the photo taken immediately after his name was called and says that "you can see how awkward my pose is holding the award because I was so surprised by it."
About the Writer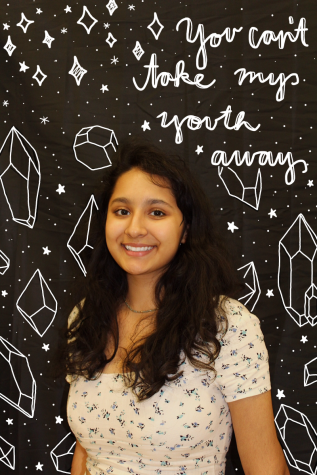 Vanshika Dixit, Reporter
Vanshika Dixit is a junior in the full IB program and is in her 2nd year with the Tower team. Originally born in New Delhi, she moved to the United States...