Michael Dunham
Michael Dunham is an activist, an athlete, a musician, a volunteer, and an IB student, now in his final year at Adams. As an active participant in many groups and organizations both within Adams and outside, he has been a prominent influence on the school and many of the students and staff.
Michael's involvement is so wide-spread that he has difficulty recounting all of the activities he participated in, counting them up on his fingers. He is a captain and varsity tennis player, now concluding his fourth season with the team, and is an eagle scout, along with being involved with Quiz Bowl, Science Olympiad, Model UN, Spanish Club, JAVA, NHS and playing the piano outside of school. However, one of the most important aspects to Michael is his activism, and specifically his advocacy for action against climate change. As a member of the South Bend Green Ribbon Commission and the Climate Champions he works with local businesses to foster sustainable growth and pushes for legislative action against climate change. "The biggest thing I want to accomplish is raising awareness and also helping people understand what they can do," Michael comments in regards to the goals of his advocacy. "That's the point of a lot of climate strikes, to show people that this is an issue that you should care about and also to show the government that a lot of people are passionate about this issue."
These climate groups have been a part of Michael's life since his 7th grade year, when he helped co-found the Climate Champions with former Adams students Julia Mckenna and Matthew Peterson. These groups only gained prominence more recently, however, and in the past year Michael has been involved with various climate strikes and walkouts to demonstrate his dedication to the issue.
Outside of his activism, Michael has had accomplishments in many fields. Becoming an Eagle Scout is one that sticks out to him because of the immense amount of work and dedication he put in, while another is being named a captain for the Boys Tennis team. "It's been a really fun experience and I've put a lot of work into it," he says of the tennis. "It's hard because we haven't really won Sectionals, or anything like that that a lot of people can attest to in other sports, but I've still been proud of what it's been and we're a great team."
Despite his constant involvement in one activity or organization or another, Michael has still found time for his social life, describing his friendships as the most important aspect to his high school career. "I think friends definitely make high school bearable in a sense. I have friends on the tennis team who really just help me relax and enjoy the sport, friends who help me on papers, or on homework assignments or just like support in general. They're definitely friendships that I will have for the rest of my life."
To underclassmen Michael advises to work on time management skills: "The harder IB is is really in direct correlation with how good your time management skills are. That's honestly the biggest thing." After high school, Michael hopes to continue his push towards sustainability, planning to attend Purdue's College of Engineering to work on sustainable energy development as he wants to continue the climate activism he began and turn it into real-world solutions.
About the Writer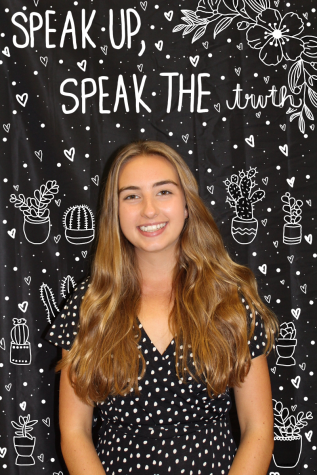 Claire Stowe, Editor-in-Chief
Claire Stowe, an Adams senior, is Editor-in-Chief of The Tower, her second year with the position. She has covered a variety of topics as a reporter, including...