Forever an Eagle
In honor of Mr. Jeff Hull (November 13, 1956 ~ September 14, 2019)
In the front hallway of Adams a bench is covered with a large sheet of paper: signatures, big and small and leaving no blank space, catch the eye. Students stop, either to sign their own name next to the many others or to simply reminisce and absorb the touching memorial. Propped up against the wall behind it are memorabilia and photos, including a photo of the Adams 1974 Boys' Basketball Sectional Championship Team. Last week, however, this bench held a different story. Instead of flowers and memories Mr. Jeff Hull sat on that bench, answering the questions of lost freshmen or helping students with their lockers or schedules or whatever else they needed, all while doing his part in keeping our school safe and prosperous. 
On Saturday, September 14th Mr. Hull,  passed away after being involved in a car accident.
According to Adams principal Mr. Seitz, "Mr. Hull worked at John Adams High School and the South Bend Community School Corporation for over 30 years in many different capacities. Mr. Hull spent time as a security guard, coach, IHSAA referee, mentor, scorekeeper, ticket taker, announcer, chaperone and anything that was asked of him. Jeff Hull loved John Adams High School. Mr. Hull's entire family graduated from Adams, including Jeff, who was a proud member of the Class of 1975. Jeff was extremely proud to be a member of the 1974 Boys' Basketball Sectional Championship Team coached by legendary coach Dave Hadaway. Most recently Jeff spent the fall seasons keeping score and announcing at our volleyball games and taking tickets at football games. In the winter, Jeff kept the scorebook for the girls' basketball games and worked during the boys' basketball games. In the spring, Jeff umpired IHSAA softball games and made it a point to attend as many Adams' events as possible. Jeff would always chaperone Prom, Midwinter and his favorite dance, MORP. Jeff Hull always displayed great character and work ethic. He never missed a day of work and always put the students of John Adams High School first."
Mr. Hull dedicated his life to Adams and to making the school a better place. "He truly loved Adams and the people of Adams," Principal James Seitz stated. "Many times Mr. Hull would tell a kid to pull their pants up or to get to class; students only saw this side of him. What they did not see was Mr. Hull ask an administrator later in the day if that student was doing well. He truly cared about the students." Being so involved with the Adams community, Mr. Hull touched the lives of many students, teachers, and administrators. "A few of us were able to build a relationship with Mr. Hull as students and then as educators," Seitz comments, who attended Adams as a student while Mr. Hull acted as a coach and a security guard.
Constantly dedicated to improving the atmosphere of Adams, Mr. Hull worked tirelessly in many capacities to help and support students and faculty alike. He made countless connections with any and all of those affiliated with Adams, acting simultaneously as a mentor, companion, and motivator, constantly encouraging success with his dedicated presence.
"Jeff was more than an employee. Jeff was a family member of John Adams High School," Seitz added, "he will be missed in more ways than I think we even know at this time."
In lieu of flowers, memorial contributions in memory of Jeff Hull may be made to the charity of your choosing. On line condolences may be sent through www.palmerfuneralhomes.com.
About the Contributor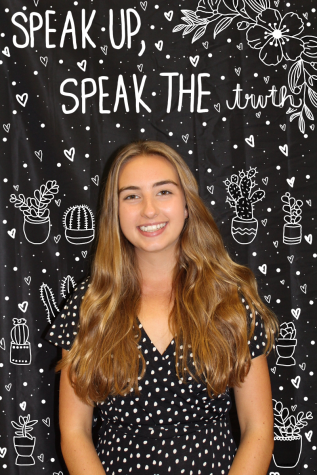 Claire Stowe, Editor-in-Chief
Claire Stowe, an Adams senior, is Editor-in-Chief of The Tower, her second year with the position. She has covered a variety of topics as a reporter, including...