Filippo Paoletti
Fashion Icon of the Month
Italy is known for being a center for art and culture, and more specifically, one of the most successful and influential fashion industries in the world. The world has become enamored with luxury brands like Gucci and Versace, both born out of Italy, and even some students at John Adams High School can be seen going out of their way to show off their Gucci belts. The city of Milan is recognized as one of the world's major fashion capitals, competing with Paris for the number one spot. Needless to say, the world would be a much more drab and uninspired place without the contributions of Italy to the fashion world. Even an ordinary Italian citizen is believed to be able to make jeans and a t-shirt look one hundred times better than the average American. These style icons bring creativity and individuality to Adams, making every day a source of inspiration for those around them.
Filippo Paoletti is an Italian foreign exchange student at John Adams High School who is constantly being complimented on his style by those around him. He agreed to share with me not only his own fashion secrets, but perhaps some of Italy's as well.  
How would you describe your style?
I would describe my style as something I am constantly changing and renewing, I usually wear streetwear clothes, but for important occasions I like to dress elegantly. I really enjoy opening my closet every morning and creating new outfits matching the clothes I find.
Why is what you wear important to you? 
For me it is important because I have always thought that you can understand a lot about a person's personality from his style and how he stands towards others, indeed I think that every person's outfit conveys something unique and particular.
Who and where do you get your inspiration from? 
I get a big part of my inspiration from music because I think that's the biggest form of art of the twenty-first century. I admire and try to imitate in my style Kanye West, Ian Connor, Luka Sabbat and A$AP Rocky as I consider them brilliant and revolutionary minds in the world of fashion.
Where do you buy most of your clothes?
Honestly there is no place where I often buy my clothes, but I like to look for inspiration on the Internet randomly until I find something that attracts me. Moreover, I find thrift shops a really good place to create yourself an innovative outfit.
Finally, what are the similarities and differences between American and Italian Fashion? 
In my opinion, American and Italian fashion differ a lot from each other. American fashion is very influenced by the hip-hop culture which spread out all over the world since the 80/90's. Italy on the other hand is the flagship of luxury fashion with brands like Gucci, Prada, Versace and Valentino which are known and appreciated worldwide. So our fashion culture is much more focused in the search of elegance and refinement.
About the Writer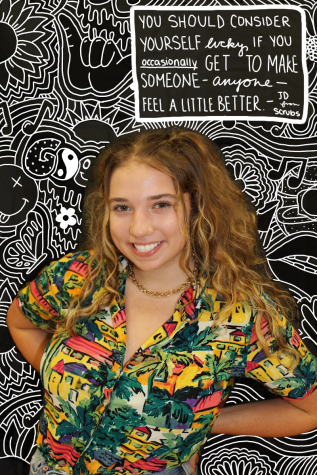 Ellie Graff, Reporter
Ellie Graff is a senior, now in her 2nd year of being a part of the newspaper. She writes articles on fashion along with other pieces on life in South...