Maddie Mischak
Maddie Mischak: Full-IB candidate, Varsity Cross Country and Track runner, award-winning mock trial participant, and one of Adams' most successful and inspiring students. She has been heavily involved with some of Adam's most prestigious teams and groups, and now, as a senior, deserves recognition for her many accomplishments.
For all four of her high school years, Maddie has been running Varsity on both the Cross Country and Track team. She joined a strong group of runners her freshman year, helping the team win the City Championship and advance to Semi-State, a feat that had not been accomplished since 2004. Returning Sophomore year she helped retain the winning streak along with the other top runners. In her junior year Maddie was named a captain and immediately took a strong leadership position on the team, acting as an example both in her capacity as a runner and as a positive and inspiring teammate. Maddie began her season being named the Girls Varsity City Champion by placing first in the city meet and later advanced to Semi-state as an individual qualifier with her teammate Ivie Skube. "Running has been a really important aspect [to high school]. Even when we're not in season I'm still out there at winter running and everyday in the summer running just because it's something I really love doing and the community is just something I love to be around."
But Cross Country isn't Maddie's only activity. She's also been heavily involved in the Adams Mock Trial program since her freshman year, advancing to the state competition as both a sophomore and a junior. She described one of her most memorable moments from high school to be the trip to state her junior year. "It was a really good bonding experience because we had worked so hard for it up to that point," she comments. "You could just tell that all of our hard work had paid off." Her team, Snake-a-Lap, placed fourth overall, the highest placing Adams team.
When asked about her methods to staying organized and successful, Maddie laughed. "I just try to get stuff done," she says. "It's kind of chaotic sometimes, but I just do what I have to do." Despite this, she still offered up some valuable advice to underclassmen hoping to build successful high school careers: "Don't be afraid to try new things and get out there and do clubs and activities, because that really is what makes high school experience so much better, meeting people and being able to have fun outside of school."
About the Contributor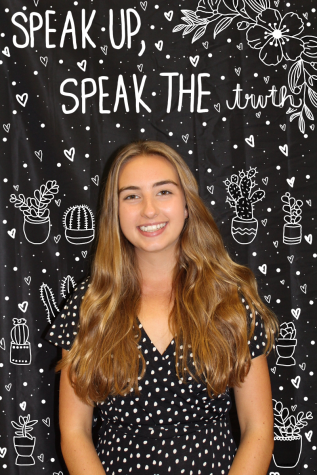 Claire Stowe, Editor-in-Chief
Claire Stowe, an Adams senior, is Editor-in-Chief of The Tower, her second year with the position. She has covered a variety of topics as a reporter, including...