JAVA Gets Ready for a New Year of Opportunities
It is a new school year which means it is time for new opportunities. There are countless ways to join new clubs, make new friends, and find new ways to give back. JAVA, or the John Adams Volunteer Association, is a non-profit volunteer club here at John Adams High School. JAVA is known for finding ways to help out the community through volunteering and fundraising for various local causes. The club's main purpose is to help students get more involved in the community they live in. JAVA is an incredibly low-commitment club, as anyone can volunteer at any time; there is no requirement for how little or how much one needs to volunteer. There are no consequences for missing an event, but each one provides new chances to learn. This flexibility allows busy people to maintain their hectic schedules while still being able to be part of such a rewarding extracurricular. 
Originally founded in 2009, JAVA helps students volunteer for the community without feeling awkward by going alone. The club brings kids together so that they can share their passion for bettering the people around them while making friends in the process. JAVA makes it easy to volunteer while still having fun. JAVA allows people to spend time with fellow students , become better people, and make friends in the process. 
Additionally, JAVA hosts many school wide fundraisers to collect money for causes such as No Shave November, where they ask male teachers to restrain from shaving and to collect money in order to raise awareness for cancer for the entire month. JAVA also helps students win free prom tickets by dressing incredibly wacky for a week to collect money to be donated at a later time. The club volunteers to work the concession stands at Notre Dame throughout the season to earn money that will go to a great cause in the future. There are various other events that one can attend, just check the JAVA website.
Some major events include the Thanksgiving dinner for YWCA, the Young Women's Christian Association, which is a non-profit organization that strives to eliminate racism and empower women while promoting peace, freedom, and justice. Each volunteer can observe how every Thanksgiving dinner can impact families in the community. Another important event is the the Saint Margaret's House WinterWalk which urges people to "walk a mile in her shoes." SMH wants to improve the lives of both women and children in the area. The WinterWalk is SMH's biggest fundraising event and JAVA always brings out a huge number of volunteers to help raise awareness of how women and children must walk in terrible winter weather merely in order to obtain basic services. 
In the 2017-2018 school year alone, JAVA was able to raise $10,900 for charities and causes in the community. There were over 2000 volunteer hours earned with 172 active members in the club. JAVA also created new memories and new friends for those involved in the club. 
Join JAVA by checking out the website at www.javagetfilled.com and by joining JAVA'lerts by texting "@1920java" to 81010. The "JAV'ents" tab will show all the volunteer opportunities in the near future. Additionally, JAVA is currently looking for a new sponsor, so if you or anyone you know is interested, be sure to contact JAVA through their email, java@sbcsc.k12.in.us  In the meantime, be sure to get together a kickball team for the exciting tournament taking place on September 21, 2019!
About the Writer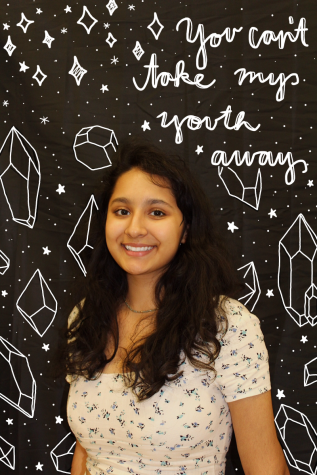 Vanshika Dixit, Reporter
Vanshika Dixit is a junior in the full IB program and is in her 2nd year with the Tower team. Originally born in New Delhi, she moved to the United States...