South Bend Civic's "Pay What You Can" for The Liar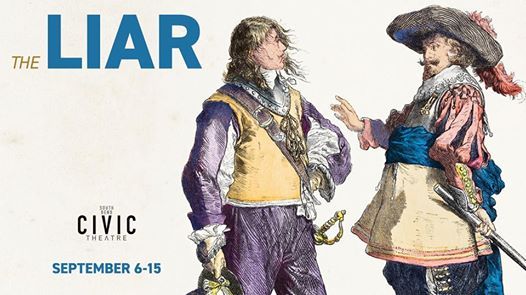 Before I talk about the show, I want to discuss an awesome opportunity for broke high schoolers like me (Or anyone on a budget, honestly) to see an amazing show for cheap, VERY cheap. You can see any South Bend Civic show the Thursday before opening night for however much you are willing to pay for tickets. All you have to do is show up an hour before the 7:30 run to reserve your seats, pay what you can, and take your seat.. For more info and other cool South Bend Civic Theater [SBCT] Initiatives you can visit the link right Here. 
I would like to preface that I saw The Liar on the preview night, so I'm willing to forgive a few small things like line stumbles and slow transitions. Overall the show was amazing. It was smart, witty, and quite a feat of memorization, seeing as how it was written completely in iambic pentameter.
 The show opens with a monologue where Cliton (Russell Pluta) speaks directly to the audience (Come prepared to make eye contact with the actors), setting an early mood for the production. Soon after we meet the compulsive liar Dauront (Bill Svelmoe) with whom Cliton is a foil. The two men happen upon a small group of attractive ladies and Dauront immediately falls head over heels for Clarice (Allison Jones), however trouble ensues when he confuses her for her best friend Lucrece (Grace Lazarz)
The Liar featured some decently graphic recounts of romantic encounters through not-so-subtle innuendos and metaphors. One scene in particular comes to mind in which Dauront recounts a torrid love affair with the romantic interest of his best friend Alcippe (Brad Mazick). This show is definitely PG-13
Performed in the Warner blackbox theater, the space is quite small. That combined with the fencing weapons used in the show and the long flowing capes makes it a close fit at points. I would definitely avoid front row seats unless you like the actors in your lap. Same goes for seats directly adjacent to pillars.  
"It was entertaining but not to the point of trying too hard" said one audience member.  The roughly two hour long production seemed to drag at some points, however it never lost my interest. The amazing comedic timing and infinite innuendos kept me engaged the whole show. I was mesmerized by the simple yet elegant set and extravagant costumes. 
I was a little disappointed at the amount of times I noticed actors directly turned away from the audience.  The show was performed almost entirely in the round (3 out of the 4 sides of the stage had seating). In this case it is imperative that actors always face a corner so that no audience member has a blocked view, which happened on more than one occasion.  
Overall, the show was a BLAST and I would highly recommend seeing it before it closes. The show runs until September 15th, so act fast. You can find tickets as well as more info on the show Here
About the Writer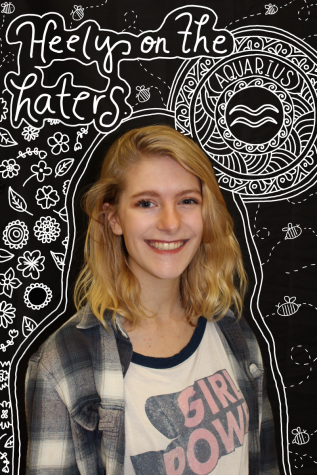 Mimi Panzica, Reporter
Mimi Panzica is a current senior at John Adams High School and is in her first year at The Tower. Born and raised in South Bend, Mimi has taken an interest...