Shazam!
Lightning Strikes Twice for the DCEU
Hang on for a minute...we're trying to find some more stories you might like.
It's safe to say that the last few years of DC films have been all over the place. With the monochromatic debut of Henry Cavill's Superman back in 2013 in "Man of Steel" to the color-splurged, gothic "Suicide Squad" in 2016, being a DC fan has been a rollercoaster. However, there was a glimmer of hope. After the bombastic reception of "Batman V Superman: Dawn of Justice", 2017's "Wonder Woman" entered the fray, highlighting the best of what DC films could be. Later that year, "Justice League" opened with a lukewarm reception, reaching the monotonous pinnacle of mediocrity. A year later, "Aquaman" washed ashore, giving audiences a refreshing (pun intended) origin story for Arthur Curry, the Aquaman. Now, "Shazam!" is striking theaters and audiences, receiving both critical and financial success. The film, directed by David F. Sandberg and led by co-stars Zachary Levi, Asher Angel, and Jack Dylan Grazer is sure to continue the encore of bold DC films.
"Shazam!" follows Billy Batson (Asher Angel) as he bounces around the streets as a foster child, searching for something near and dear to his heart. Along the way, he ends up in a group home, learning to adjust and become part of a true family. Everything changes when a wizard bestows upon Billy the wisdom of Solomon, the strength of Hercules, the stamina of Atlas, the power of Zeus, the courage of Achilles, and the speed of Mercury. Whenever Billy speaks the wizard's name, he becomes Shazam (Zachary Levi), a champion of the gods. There's a catch though, when Billy transforms, he becomes an adult, leading to some golden comedic moments. Freddy Freeman, Billy's foster brother and super fan of everything superhero related, freaks out upon learning of Billy's gift. A threat rises, however, and Dr. Sivana (portrayed by Mark Strong) seeks out Shazam to kill him.
The superhero comedy is a fun ride and a great introduction to the titular superhero, only suppressed by some unusual writing and an evidently limited budget. Zachary Levi embodies Shazam, giving a truly authentic performance, capturing what a teenager would behave like when granted the abilities of a superhero. Asher Angel and Jack Dylan Grazer give compelling supportive performances, highlighted by their innate chemistry together. Mark Strong is an average villain, but works well to highlight Shazam as a hero. The film embraces the cheesy nature of its hero, which pairs well with the comedic aspect of the film. However, some of the comedy is a bit of a hit or miss at times, clearly aiming for a younger demographic. The film also falls flat in terms of action sequences, which seemed devoid of the high caliber action that DC films are known for. Furthermore, the CGI seemed obviously unpolished, making it distracting from the overall experience. Overall, I give 2019's "Shazam!" an 8/10, making it a great continuation for the DCEU. Do you agree with my review? Let me know and comment down below.
About the Contributors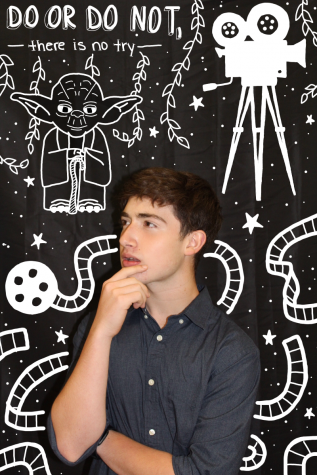 Samuel Villagra-Stanton, Movie Critic
Samuel Villagra-Stanton can never be president because he was born in Linares, Chile.  Sam has a lot of interests, such as film, Star Wars, and drawing....