The College Dropout: 15 Years Later
The 15 year anniversary of Kanye West's The College Dropout being released was this last Sunday, February 10th, 2019. The College Dropout is a very special album to Kanye fans, myself included, because it was his first. This album, in many ways, is the story of Kanye's rise to fame. It starts with the story of Kanye's problems in college and his eventual withdrawal from Chicago State University. Then West goes on to spend a lot of the album proving himself to and parodying those who didn't believe in him. For those who don't know, West got his start as a producer for a couple smaller rappers, such as an artist named Grav, and he was a ghost producer, someone who produces for an artist but often is either anonymous or not given much credit,  for Deric "D-Dot" Angelettie for a while. He then landed a job at Roc-A-Fella Records. Here he was well known for revitalizing Jay-Z's career with his work on The Blueprint. Although quite accomplished in this regard he still wanted to be more, he wanted to be a real rapper. He tried for a long time to get a record deal with a couple companies, including Roc-A-Fella and Capitol Records, the main two competitors. Although he was leaning towards Capitol the deal unfortunately fell through and he took the deal with Roc-A-Fella and the 2004 album we know and love was created.
This album was actually quite inventive when it came out. It went in a completely different direction that most of the "gangster rap" that was popular at the time. Just as this album was fairly introspective on West's life, its themes are also quite introspective, talking about many problems West saw in this time such as minimum wage, drug use, materialism, and working through personal struggle. Thinking back on it, many of my favorite songs off of this album have some strong message that they are trying to convey. For example, one of my absolute favorite songs from Kanye West is called "New Workout Plan" and it comes off this album. This song is all about what people will do to raise their status and become wealthy. Between that message and the incredible beats and the almost violin sound that West uses in this song's backing track makes this song stand out alone. Then you add lyrics that you can barely resist singing along to makes this song one of my favorites of all time. While that song is all pride and narcissistic, "Through the Wire" is sort of the opposite. This song is about Kanye's experience with a car crash where his jaw was damaged badly and he was told that he may never be able to rap. This song is all about West embracing his humble side and working through the struggles thrown his way by "singing through the wire" as the song is titled. This song is a bit more mellow than the previous song in tone but still has the signature Kanye identity of having fantastic production and beats. "Through the Wire" is slower but for a reason, it allows West to really tell a story and explain where he's coming from. "Spaceship" is all about working a unfulfilling, minimum wage job and the monotony that accompanies that type of life. The beat is very simple in the track but it somehow is one of the best on the album because it fits the song so well. It's then paired with great lyrics and a ridiculously catchy chorus that makes this song one of the best to jam out to. "Never Let Me Down" is maybe the catchiest song on this album. The fast pace and the pretty chorus are a big part of that. However, the ridiculously smooth flow on this track and all the small, yet complet things that happen in the background make this song a real cut above the rest.
So I've talked a lot about the highlights of the album and the story behind it. However, the real question is how does it hold up after 15 years? And my answer? I would say that this album is just a relevant, clean, and witty as it was when it was released, if not more. The College Dropout was a semi-revolutionary album that shaped a fair amount of the direction of rap at the time. The transition from the real "tough guy" atmosphere to talking about problems in the world was in many ways started here in my opinion. This is an album that I think anyone who enjoys rap should listen to if they haven't already and if you're feeling adventurous I implore you to try it as well, it's the 15th anniversary, might as well give it a try!
Leave a Comment
Your donation will support the student journalists of The Tower and John Adams High School. Your contribution will allow us to purchase equipment and cover our annual website hosting costs.
About the Writer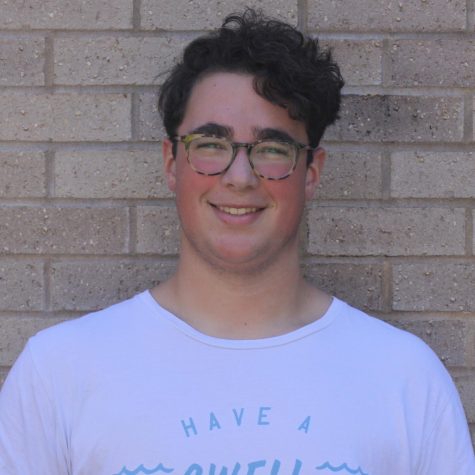 Matthew Carbonaro, Media Editor
Matthew Carbonaro is a junior at John Adams High School involved in many activities inside of school. Be it in marching band, Science Olympiad, or being...