India McKinney
Fashion Icon of the Month
High school can be, quite simply, a drag. The average teenager does not have the time to put a great deal of effort into their appearance every morning, leaving the halls of Adams High School filled with gray hoodies and Nike slides. However, in a sea of sweats, there are those who choose to go the extra mile. These brave young men and women risk bare legs in the winter and white sneakers in the rain, all in the name of fashion. These style icons bring creativity and individuality to Adams, making every day a source of inspiration for those around them.      
India McKinney is a junior at John Adams, who can often be spotted serving major looks. To find out the scoop on her unique style, I sat down with McKinney and asked her a few important questions about the origins of her fashion sense, and how to get the "India Look."
How would you describe your style?
I would describe my style as my own. At school I often dress casual, but there are days when I get cute, you feel? My style isn't confined to a word, but rather an expression of who I am and how I feel. And of course I feel different emotions, therefore my style gives off different vibes.
Who and where do you get your inspiration from? What celebrity do you think has the best style?
I get my inspiration from literally anything. I base my style [off] of how I feel, so for everything I take in there's potential that it contributes to what I wear. A few people whose style I admire are SZA, Rickey Thompson, Keyshia Ka'oir, Clifton Levee, and Jay Versace. I wouldn't say there's anyone who has "the best" style though, just wear what you want to wear.
Where do you buy most of your clothes?
Popular places I buy my clothes from are Forever 21, Macy's, Goodwill, and FashionNova. Online shopping is really nice because there are more items available compared to in-stores, and there are more companies to choose from. Thrifting is pretty clutch too, because if you look well enough you come across nice pieces and even name-brand clothing for great prices. I also have hand-me-downs from my oldest sister that are actually cute, so that's nice too.
What were your favorite/least favorite trends of 2018? What trends do you predict for 2019?
My favorite 2018 trends were biker shorts, dad sneakers (or chunky shoes, whichever you prefer), and matching sets. I know matching sets have been a thing since forever, but I feel like they really had their moment in 2018. There weren't any trends that I didn't like from last year, but I do think the fanny packs were overplayed. (Unless you were genuinely using them for convenience, but wearing them sideways and all that; no. [that's] doing TOO much.) I don't know what 2019 holds, [but] I'm excited to see!
Finally, What do you think it means to be fashionable?
To be fashionable is to be confident in what you wear.
About the Writer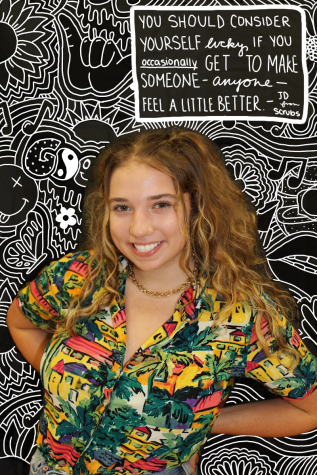 Ellie Graff, Reporter
Ellie Graff is a senior, now in her 2nd year of being a part of the newspaper. She writes articles on fashion along with other pieces on life in South...