Senior Semester Update
It's nearing the Winter Break, meaning that the end of the first semester is upon all of the students at John Adams High School. This time of the year is exciting because almost everyone is looking forward to celebrating the holidays or to winter break. However, this is also when finals are held and students scramble to get grades up. Add college applications on top of this, and one has the life of a senior.
Some of the seniors here at John Adams have answered some questions as to how the year is going thus far in connection to college apps, stress levels, and overall preparedness for the exciting things to come after high school. When asked how far they are on college apps, almost all of the students said that their apps were completed, and it was actually a pretty mixed response when asking if the seniors knew where one would end up. Some said that it was decided, where as some are still awaiting decisions or to see which college gives the best offer.
With most of the students finishing up college applications, the next question was how stressed they were during the first half of the year. Holly Snyder responded by stating, "School itself is not as stressful as previous years, but when adding college apps and other miscellaneous college things it can get difficult to manage time," and Jordan Lewis agreed explaining, "My stress has mainly come from things such as college applications, work and other things going on. The school work itself hasn't necessarily caused too much stress." On the contrary, when asked if he is stressed, senior Mateo Rey said, "Not really, I know what needs to be done in order to be successful and part of that is being attentive so I try to stick to that."
Besides the stress and college applications, it was important to ask the seniors if this is year is enjoyable and if being in the 12th grade is as important or fun as people label it to be. Skylar Dungy said, "I love senior year. Even though it is stressful, it is very exciting and fun at the same time. It's also cool being at the top of the school," and Natalie Fish agreed stating, "It's really fun and I feel like I have a lot of freedom this year. It's a lot different than previous years." However, it is a little bittersweet, with Selin Bradley revealing, "I like the senior privileges and getting ready for college and everything, but I think it has been harder than the last few years which I don't really like. Also thinking about leaving high school and going on to college can also be a little scary to think about," and Alex Sakaguchi elaborated saying, "I like being a senior in that it is such an exciting time preparing for college, and the privileges we have as seniors is very nice. However, it is also very scary to thinking about all the changes that are just around the corner, and it's all anyone wants to talk about with you."
Finally the seniors offered some advice to the underclassmen, placing importance on good attendance and finding a way to motivate yourself as the key to being successful. Snyder said, "Try your best to attend school as much as possible, grades do still matter, and be friends with your teachers." Sakaguchi gave some really good life advice as well reminding people that while "keeping working hard and staying motivated is important, but also finding something you love to do that keeps you sane outside of school is important as well. While school matters, you're only this age once so don't weigh yourself down with stress and school work, have fun sometimes. Just find the right balance, and maintain good time management."
About the Contributor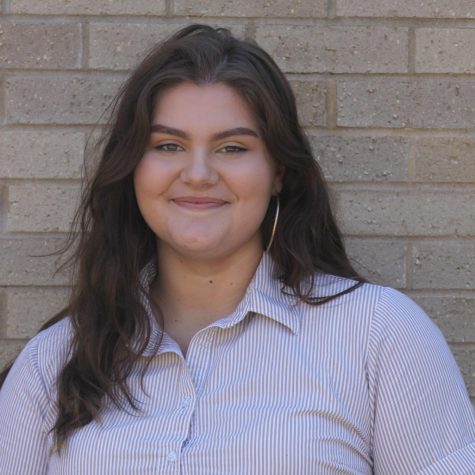 Claire Hargis, Arts & Entertainment Editor
Claire Hargis, an Adams senior, is both a reporter and the creator of the podcast "Top Picks for Cool Chicks," a subset of The Tower's RadioTower...