"We're Trying to Save Public Education"
Uniserv Director Explains Teacher Salary Increase
Hang on for a minute...we're trying to find some more stories you might like.
Public school teachers are ready for a change. Plagued with low salaries for decades, teachers are forced to take on multiple jobs while still balancing their educator positions and family commitments, but now the first step is being taken towards salary improvements after years of pay freezes and budget losses due to vouchers.
The 2019 teacher contract, ratified on November 14th, calls for salary increases across the South Bend Community School Corporation [SBCSC]. The ratification came only a day before the deadline of November 15th, after which the negotiations would enter the mediation period before possibly being proclaimed as "at impasse." The teacher contract, which applies only to salaries, was first a tentative agreement between the negotiating teams, then was approved by the school board.
The contract, which will be in effect for one year, mandates a pay increase of $2,500 to starting teacher salaries, and simultaneously bumps up the pay of all of the brackets of teaching experience in various increments. According to Tom Johnson, the Uniserv Director of the 3rd district of Indiana, who was heavily involved in the negotiations between the employees and administration, this raise was the most significant in several years. Johnson, as one of twenty-four Uniserv Directors for the state of Indiana, provides representation and support to the teachers union of SBCSC (NEA South Bend) as well as to those of other corporations including Mishawaka, Penn, John Glenn, and Jimtown. In addition to advocating for the union in negotiations, the Uniserv members of the Indiana State Teachers Association [ISTA]  engage in political advocacy, canvassing for candidates supporting public education, and provide curricular support to educators.
According to Johnson, the administration was very open and agreeable to the salary increase, despite funding constraints.  "As public schools get defunded, we're not getting the money that we used to. In 2008, Governor Daniels had the property tax cap, which meant less property tax money went to public schools and then in 2009 he took $300 million out of the education budget and never replaced it. This created a teacher shortage. So for about the last three or four years, everyone's been scrambling to raise their minimum base salary. Every school corporation is trying to attract young people coming out of college to come to their corporation. Everyone wants to raise that minimum base."
However, despite the starting salary increases, the salaries for experienced teachers are not raised by the same proportion, highlighting an issue several teachers have expressed concern about: teachers with over fifteen years of experience will not receive the same benefits of an increase. Johnson quickly countered this impression, relating it to the salary freeze that has affected more recent hires by holding them at a beginning teacher salary without an opportunity to increase pay, despite growing experience. "Every group got a pay raise," he commented. "The group…five to fifteen years, got a little bit more because they got hired in on the pay freeze. The top got the best raise that they've had in some years."
These newly ratified pay increases are very timely. The increased assertiveness of the teachers has not gone unnoticed by the unions at both local and state levels (NEA South Bend and ISTA, respectively), nor have the national movements passed without recognition. "I think it makes a huge difference," commented Johnson, in regards to local educator advocacy of raised salaries. "I don't necessarily look at it as are teachers protesting, I look at it as are teachers trying to inform."
With teacher walkouts and strikes occurring across the country in states such as Arizona, West Virginia, and Oklahoma, teachers' fight towards higher compensation has become a national issue. Johnson, however, raised an interesting distinction between the educational system in these states versus Indiana: the salaries in all of them are set by the state legislature, leading to the same minimum pay statewide. This differs from Indiana, where teachers have individual bargaining rights and pay varies from corporation to corporation. "It's made it easier for teachers to unite because they are all fighting the same pay. In Indiana it's a little more difficult because some teachers are getting more pay than others which makes it harder to organize on that issue."
Johnson clearly emphasized the importance of effecting salary change within the state and national legislatures, stressing the political dimension of public schooling. Specifically, after the appointment of Betsy DeVos as Secretary of Education by President Donald Trump, Johnson feels that "it's worse. We're seeing more legislation being pushed on the national level that's anti-public education, but what's been good about it is that it's starting to inform the public of what is really going on."
In Indiana, the most recent change affecting the public education system came in 2011, under the governorship of Mitch Daniels. Daniels implemented the Indiana Choice Scholarship Program, establishing a school voucher system.  According to EdChoice, a pro-voucher organization, this program now has over 35,000 participants. In 2018, it is estimated that $153 million will be spent solely on vouchers. The Indiana Association of Public School Superintendents  conducted research on individual school corporations this year and found that $3,036,582 would be the "district share if voucher money was added to basic grant" for SBCSC.
Despite a raise for teachers across the corporation, Johnson feels that there is still more work to be done. "We were hoping that we could get more money for our teachers. We're trying to make up for over a decade's worth of public school defunding," he says, when asked about his reaction to the final contract. "The goal moving forward is that this raise that our teachers received needs to be the norm as opposed to the exception to the rule. The goal moving forward is to continue on this path."
About the Writer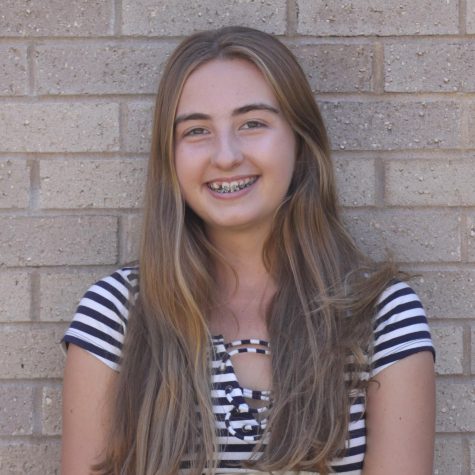 Claire Stowe, Editor-in-Chief
Claire Stowe, a junior at John Adams High School, is Editor-in-Chief of The Tower. She is thrilled to be the first generation of The Tower's online presence,...