Elizabeth Mellor
Elizabeth Mellor has filled her four years here at John Adams to the brim. Whether it be sports, hours of homework, extracurriculars or clubs, she took advantage of her ability to take on challenges and has made the best of her high school career.
Mellor attended Holy Cross Catholic school from kindergarten through eighth grade and, on receiving her older brother's reviews of Adams and the IB program, decided that it was definitely the school for her: "Adams offers the most rigorous education in the city, and I wanted to make sure I was challenged as much as possible."
At the age of five she began playing soccer, which was one of the many sports that she competed in as a child. In little time she realized that she had "really bad hand-eye coordination," so soccer became her sport. Around fifth grade she started to become more serious about it and joined a travel team, where she also discovered that because of her competitive nature, she's best at defensive positions. "Somehow I really enjoy being given the opportunity to prevent the other team from scoring, as put by one of my defensive coaches, 'Ruin Some Dreams,' which has become my personal mantra for soccer." Her soccer skills and competitive spirit has lead her to receive a varsity spot on the team all four years of high school. Because of this dedication, Mellor was able to use swimming to her advantage as she wanted to be able to stay in shape for soccer during the winter while being apart of John Adams Women's Swimming [JAWS] her junior year. Throughout her years playing for JA, Mellor has received several awards, which include the Academic All State both Junior and Senior Year, First Team all Conference both Junior and Senior Year, Top Team Player all District Junior year, and this year she made the all District Team, which means she'll going to Indianapolis next week to compete for the All State Team.
Mellor has also participated in band all four years as a trumpet player. "I started playing in fourth grade and was in the band all four years at Adams. I like the challenge it presents, which is something unique to music. In music in general, if you miss one note or one accent or one dynamic, the entire piece is wrong. The unique necessity of perfection is something that I have always loved."
One of the main deciding factors for Elizabeth on coming to Adams was the IB Program. She plans on graduating with the IB diploma and is also a part of the IB Advisory Committee. She believes that everyone should take at least one IB class because, "the experience is invaluable." Obviously those who are able to complete and receive the whole diploma are fantastic students, but it's still strenuous. Her advice to those unsure if they want to do IB, is "The grade is not as important as the learning. The letter or the paper does not reflect how you grew as a person, the new perspectives you gained, and the experience you have gotten. If you focus on enjoying what is being taught, instead of stressing to comprehend everything, school becomes less stressful and in my experience better grades follow." She also states that "The main thing that has gotten me through IB is my constant reminder to myself that I do this because I fundamentally enjoy it. Challenging myself, whether its intellectually or physically has always been something I strive to do. Full IB is something I would recommend to anyone who thinks they want to do it. Trying to do it because you are forced into it or because of peer pressure will lead to unnecessary stress. Know yourself, and don't be afraid to take a step back to preserve your mental sanity."
Anyone who's a student athlete knows the struggles surrounding the balancing act of sports and school. As well as being a soccer player and full IB student, Mellor also participates in NHS and Girl Scouts, not including all of her hobbies outside of school. Mellor says that her tips for keeping grades up is to "find a way to organize yourself and stick to it. A planner sounds cheesy but is a life saver for remembering appointments, deadlines, assignments, and dates. I use one folder to keep track of what I call my active papers, aka the stuff I use everyday, and then about once a month I clean it out into a file folder I keep at home. I also don't throw anything away until after the school year ends, in case of grading mistakes or needing to review the material."
As for the future Mellor is undecided on where exactly she plans on attending. "My top three schools right now are Notre Dame, Georgetown, and Harvard." She wants to study history because she's "a huuuuuuggeee history buff," but states that "I will probably end up minoring in political science or criminal justice." Mellor states that "Career-wise I ultimately want to end up in federal law enforcement, probably FBI or CIA. I want to take perspective gained by studying history and apply it to situations that arise today, to hopefully achieve a better outcome. No matter where I end up, I want to find a career that allows me to improve the society we live in."
Elizabeth Mellor's high school career has been well spent, and as she wraps her last year as a John Adam Eagle, we wish her luck in her future.
About the Contributor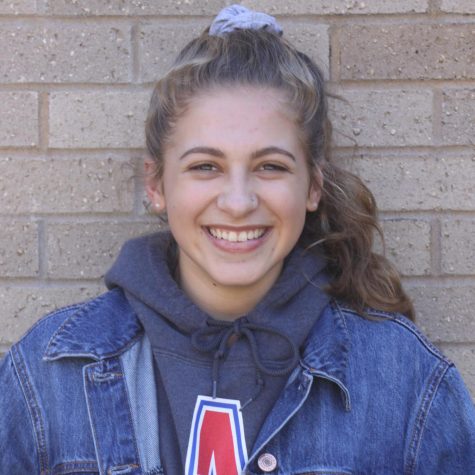 Anna Fuller, Photographer / Reporter
Anna Fuller, one of the many Annas here at Adams, is a Junior this year, and is acting as a photographer and staff writer for The Tower. Her Adams experience...