Senior Lara Chuppe Recognized as Top Researcher
Hang on for a minute...we're trying to find some more stories you might like.
Lara Chuppe, a senior at John Adams High School, was recently recognized for her advancements and achievements in science research when she was recognized by the Indiana University Medical Center as the top high school science researcher. She has been working on her project for over a year, and in May 2018 she submitted the research paper of her investigation to the Indiana Academy of Science. She was one of eleven students selected in September to advance to the next round of competition in Indianapolis. "The competition consisted of poster presentations and we were interviewed by three different judges as we presented our poster," Chuppe explained. "They gave a first place award to one female and one male." Chuppe was this one female out of the entire state of Indiana. She will now travel to Washington D.C. in February where she will present her poster to a conference with both the American Junior Academy of Science and the American Academy of Science.
For her investigation, Chuppe researched the bacteria planaria and how "restriction of sulfur amino acids affected their regenerative abilities." Chuppe explained, "I had read some research articles at the beginning of last year saying that it was found that hydrogen sulfide could improve the health of mice, and they linked that to the restriction of sulfur amino acid.  I wanted to see how that impacted cell health and growth, and so I decided to test that with planaria." Chuppe describes that she chose to use planaria because of their genetic similarities to humans, making them "viable models for comparison." From her experiment, Chuppe discovered that the group "that had all essential amino acids in addition to the sulfur amino acids did not regenerate as much" as the control group and group with essential amino acids but no sulfur amino acids.
Despite her achievement, Chuppe is far from finished with her research. She is continuing and extending her project this year to investigate how "behavior and neurological aspects" of planaria are affected by restricting sulfur amino acids. "I'm going to be measuring how well they retain condition responses after being placed in different solutions." She will be submitting the finds from this research to a Notre Dame competition in March.
Chuppe has some advice to offer to future researchers. "In the actual competition […]I found it really helpful to really know the basic theory, because as much as [the judges] want to know what you did in your investigation it's also about really understanding why it worked," she commented. "Some of it comes down to your research idea, but also just really being interested in what you're doing and pursuing that."
About the Writer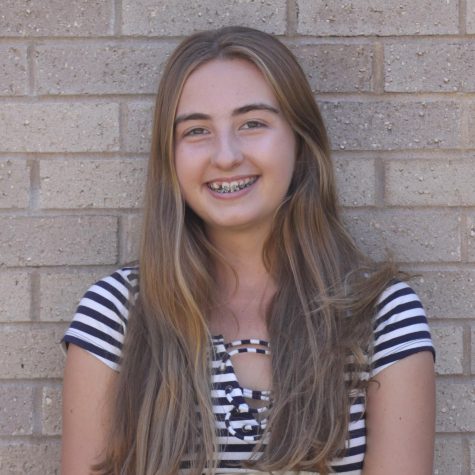 Claire Stowe, Editor-in-Chief
Claire Stowe, a junior at John Adams High School, is Editor-in-Chief of The Tower. She is thrilled to be the first generation of The Tower's online presence,...