Grace Beutter
Grace Beutter is a senior this year at John Adams who is doing some amazing things. Beutter is a full IB student and is taking three HL and SL classes this 2018 to 2019 school year. When Beutter is not concerning herself with schoolwork, she is typically playing soccer, taking photos, volunteering, or hanging out with her friends. With everything that Beutter is apart of, time management plays a crucial role in keeping her sanity. Beutter explained that ¨It's definitely a challenge with full IB, extracurriculars, and soccer, and managing my time is not easy, but being able to collaborate with other students has really helped.¨ She went on to express that, "I would not be nearly as sane as I am now if it was not for the help of my friends, classmates, and teammates. If I miss something I can always get help or information from friends, family and teachers which is really nice too."
With it being her final year in high school and having survived her first year of IB, Beutter gave some advice for becoming a better student revealing, "one of the most important things to do is to strike a healthy balance between school, sports and extracurriculars, and socializing (good time management)." Beutter also expressed the importance of sleep, disclosing that "I've found that getting sufficient sleep makes a considerable difference in productivity, so I would honestly also say that another good tip is to make sure you get enough sleep." However, this year Beutter has also learned the importance of surrounding yourself with good people. Beutter unfortunately got a concussion from playing soccer, and despite this seemingly being a setback, Beutter revealed that  "during my concussion I could not do any work whatsoever, and even now I'm still limited in how much I can do, which makes catching up pretty tough. But all my teachers have been really understanding and a lot of my classmates have offered to help me catch up which has been incredibly beneficial and reassuring."
Having going through this all, Beutter is looking forward to her extremely bright future. Beutter has expressed interest in universities such as University of California: Los Angeles, Brown University, Vanderbilt, and Notre Dame. Beutter is undecided on exactly what she wants to study, but she takes interest in psychology and cognitive science, philosophy, politics, and/or film. Beutter, despite her strong focus on school, said that what she is most looking forward to is "having new experiences and new opportunities that will hopefully allow me to further explore my interests and meet new people." Emphasizing her point that having a balanced life allows you to be a balanced student.
About the Writer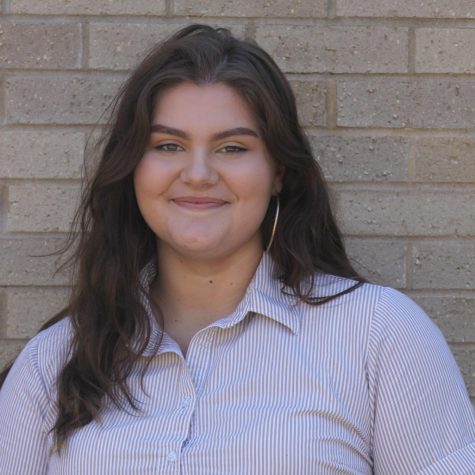 Claire Hargis, Arts & Entertainment Editor
Claire Hargis, an Adams senior, is both a reporter and the creator of the podcast "Top Picks for Cool Chicks," a subset of The Tower's RadioTower...