"Playing Like a Girl" Has a New Definition
Throughout the 21st century, women have changed their role in society by becoming more empowered in different fields. The normalities are changing, helping to inspire girls in generations to come. In this community, we see this through Amanda Abner, a senior at John Adams High School. Being one of the first girls on the football team in the history of John Adams comes with more pros than cons, but through it all, Abner is thriving on the field. Here is what Amanda Abner had to say about her experiences with the football team so far.
How did the tryout happen?
I was called down to Coach Jones' office during the middle of school one day and that's when he asked me if I would be interested in kicking for the team. At first I thought he was kidding because it sounded so crazy, but I ended up going to a football practice that same day. I kicked a few field goals just to get a feel for it and see how well I would do, and I ended up making all of the ones I kicked. That's when Jones officially asked me to become a part of the team, and from there on I was committed.
What are some of the best parts about being the only girl on the football team?
I have received a lot of support and encouragement from people I don't even know. My soccer coach, Karen Mackenzie, Coach Jones, and all the boys on the football team also support me. They hype me up and always encourage me, especially after the first time I had scored an extra point. I received a lot of high-fives and pats on the back. I haven't heard anyone say anything negative to me; it's all been positive and that's another one of the cool things I've experienced so far. I think that is one of the best parts because it boosts my confidence and also helps me mentally during a game.
Are there any advantages/disadvantages of being on the team?
An advantage is being able to experience participating in a high school football game firsthand. It's one thing to be in the stands, but another to be in the actual game. It's different in a good way. I love being able to say that I have scored during a football game. It's a unique opportunity and not many people can say that. I've gotten to meet a lot of people as well. I feel like I'm making an impact too, like what I'm doing may encourage other females to try out for a football team.
About the Writer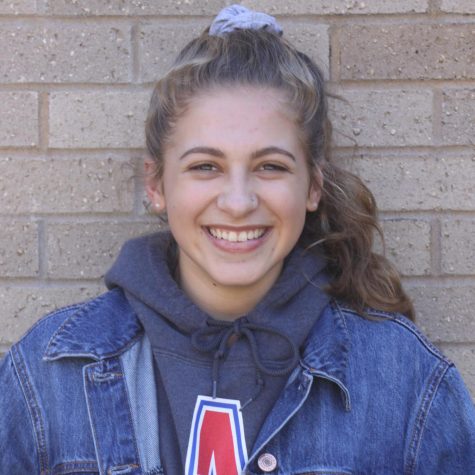 Anna Fuller, Photographer / Reporter
Anna Fuller, one of the many Annas here at Adams, is a Junior this year, and is acting as a photographer and staff writer for The Tower. Her Adams experience...