Can Thanksgiving Be Vegan?
This year, the country has seen an increase in plant-based products available on the mainstream market. Whether people are driven by their health, environmental issues, animal rights, or just curiosity, there are more and more people trying vegan and vegetarian diets. Soy-based Impossible Whoppers are now in Burger King and provide an experience extremely similar to the real deal while Beyond Meat Inc. sausages are now served at Dunkin' Donuts. 
Thanksgiving can be a tricky time of the year for those that avoid animal products. It's even referred to as "Turkey Day!" With new scientific studies that demonstrate the impact that the consumption of dairy and meat has on the earth's environment, more and more people have been switching to a plant-based lifestyle. But a vegan or vegetarian Thanksgiving does not have to be some sort of terrible sacrifice. Plant-based products can be just as good, if not better, than a traditional meal during the holidays. 
1. Turkey:
The centerpiece of Thanksgiving seems intimidating to replace; however, it is not as difficult as it seems. There are many turkey alternatives available. One option is the Gardein Holiday Roast. This is an encrusted faux turkey breast that is soy-based. Or try this amazing recipe from Ben Mims.
2. Pumpkin Pie:
Pumpkin pie is a classic, but many recipes require eggs or cream in the dessert with whipped cream topping. "Nora Cooks" shares a 9-ingredient pumpkin pie recipe that is perfect for a feast. Just blend, pour, and bake! For the whipped cream, there are almond milk whipped creams that taste amazing on top of a dessert. Or make your own with chilled coconut milk, sugar, and vanilla extract. 
3. Gravy:
Another Thanksgiving staple is gravy. Gravy is often full of meat products, but that doesn't mean it has to be. Peta provides many different gravy recipes for whatever you may need.
4. Mashed Potatoes:
Mashed potatoes are a classic at any holiday dinner. Whether you like them smooth or chunky, there's no need for them not to be vegan. Many potato recipes call for milk and butter to create a creamy texture; however, easily replace butter with oil or vegan butter and replace the milk with any plant-based milk to "veganize" the dish. Simply Vegan Blog outlines a mashed potatoes recipe that uses vegan ingredients. There is also a vegan butter recipe that goes perfectly with this dish. 
For any other recipes, try these substitutions to create a vegan-friendly dish:
1. Butter = Vegan Butter, Sunflower Oil, Olive Oil,
2. Milk = Oat, Hazelnut, Cashew, Almond, or Hemp Milk
3. Cheese = Vegan Cheese
4. Yogurt = Vegan Yogurt
5. Sour Cream = Plain Non-Dairy Yogurt, Vegan Sour Cream, Make Your Own with Silken Tofu
6. Mayonnaise = Vegan Mayonnaise, Make Your Own with Aquafaba
7. Egg Whites = Aquafaba (Chickpea Water)
8. Eggs (In Baked Goods) = Applesauce, Pureed Soft Tofu, Ener-G Egg Replacer, a Flax Egg, Mashed Bananas
9. Eggs (For Binding) = Oat Flour, Soy Flour, Cooked Oatmeal, Rolled Oats, Bread Crumbs, Instant Potato Flakes, Tomato Paste, Cornstarch, Nut Butters
10. Beef or Chicken Stock = Vegetable Broth, Vegetable Bouillon Cubes
11. Chicken = Jackfruit
12. Gelatin = Agar Flakes or Powder, Vegan Fruit Gelatin
13. Honey = Agave Syrup, Corn Syrup, Malt Syrup, Molasses, Brown Rice Syrup, Fruit Syrup, Sorghum Syrup
14. Chocolate = Vegan or Non-Dairy Chocolate, Cocoa Powder
15. Ice Cream = Vegan Ice Cream Based on Soy, Coconut, Rice, Nut Milks
About the Writer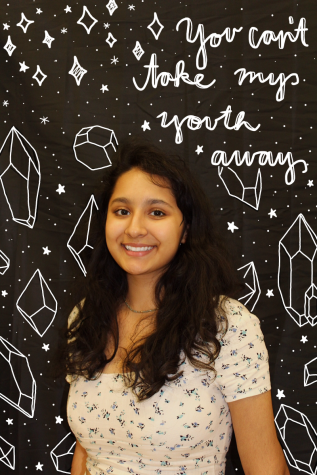 Vanshika Dixit, Reporter
Vanshika Dixit is a junior in the full IB program and is in her 2nd year with the Tower team. Originally born in New Delhi, she moved to the United States...