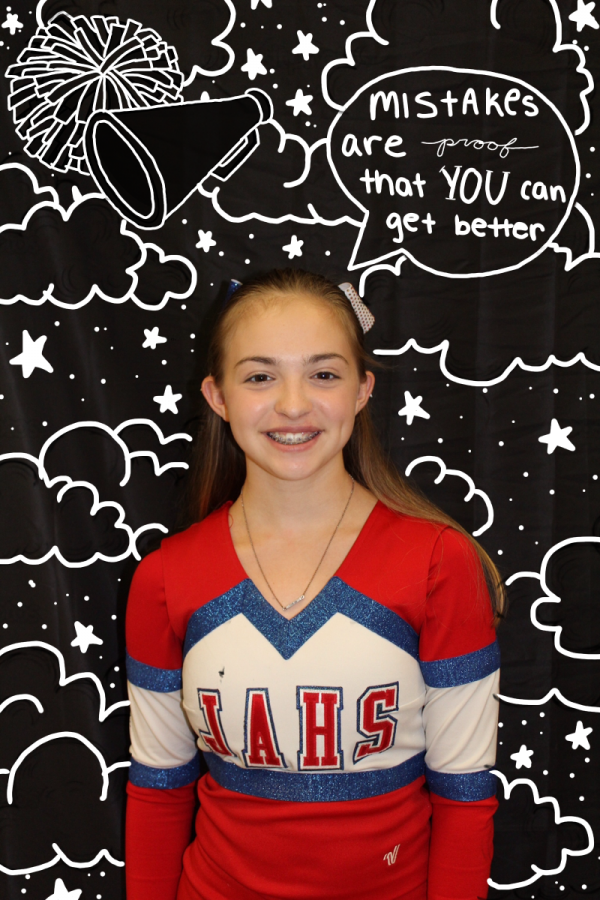 When someone thinks of tiny, they should probably think of Naomi Presler. Naomi is a sophomore at Adams and at first glance a person might miss her because of her size but she uses her size to her advantage. She is a flyer for the cheerleading squad here at Adams. Cheerleading is not the only thing Naomi participates in. She also plays tennis, where she loves the competitive nature of the sport. Tennis was not always the activity of choice for Naomi, before she discovered her love for tennis she enjoyed being in the theater. When she is not cheering and playing tennis, Naomi also dabbles in Irish Dancing. Naomi has an Irish background so she thought she would try her hand in Irish Dancing. 
This is Naomi's first year with The Tower, she says she joined because she has always had an interest in journalism. This is evident in her eagerness to write a hard hitting story. Naomi has a kind heart, she wants to help people in anyway that she can, whether that be through journalism or with the imaginary money she won from the lottery, Naomi wants to help people first. There is not anything that could stop Noami because she is always thinking outside the box and using her past knowledge to come up with solutions to problems. 
Naomi says that if she could be any animal she would be a wolf because at first they seem tough but they can be friendly once they are loved. This proves evident to be like Naomi gives off a fierce persona but opens up and becomes talkative when she is sat down for a conversation. One piece of advice Naomi would give to someone who is struggling is to find people who are similar to you. Naomi is a leader, not a follower, and she is known for being herself.
Naomi Presler, Reporter
May 18, 2020

Stuck at Home: Good and Bad

(Story)

Mar 12, 2020

An Alternative to Plastic: Mushroom Packaging

(Story)

Mar 04, 2020
Feb 17, 2020

4 Super Bowl Fashion Statements and Impacts

(Story)

Jan 31, 2020
Jan 16, 2020
Dec 19, 2019

Why is gun violence becoming a normality?

(Story)

Dec 03, 2019

Lady Eagles vs. The Riley Wildcats Swim Meet

(Story)

Dec 03, 2019

This Day In History

(Story)

Oct 31, 2019

This Day In History

(Story)

Oct 03, 2019
Sep 18, 2019

G7 Summit and Protest

(Story)