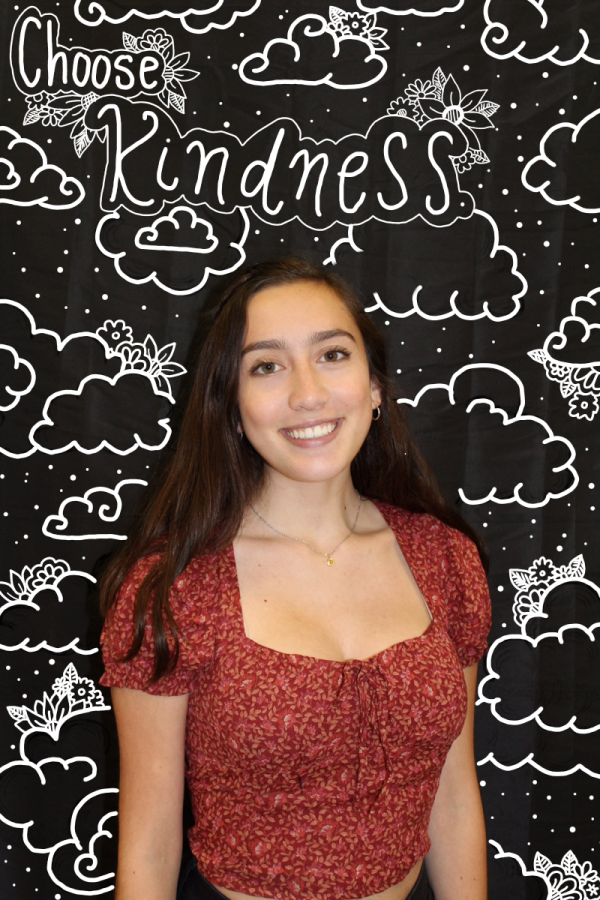 Brigid is a kind hearted girl who is very down to earth. She is a senior at John Adams High school. She's involved in the John Adams show choir. She has a history of ballet since she was three. She is involved in model UN as well as Mock Trial. Brigid's friends describe her as, funny, kind, and open minded. One of Brigid's quotes that I got were, "Live your own life, don't judge others and don't let others judge you." Interviewing her was a different kind of experience. As I've seen some of these traits in her just by talking to her.
 She is a very easy going person and is involved as much as she can be. One of Brigid's life lessons in high school were; "Don't be afraid to meet new people because they could be some of the best people you've ever met." She had explained to me that her favorite high school memory is meeting people she's highly comfortable around. Brigid is know but a lot of people and she seems to like it that way. Brigid told me that "Entering high school has made her grow exponentially. It's pushing me to figure out who I am as a person and what I want to do with my life."
In Brigid's freetime, she tends to hangs out with her friends. When she goes out with her friends it tends to be to the mall, in her backyard, or sometimes you'll catch her at concerts. During the summer Brigid has done some traveling. She has gone to Greece, Italy, California, and Chicago. She tends to be very busy and she wouldn't have it any other way.
One of Brigid's role models is Michelle Obama. She chose Michelle Obama because, Michelle Obama is an empowered female. She did everything on her own and it inspires Brigid to work hard for the things that she wants. Brigid also said "Michelle Obama is an open minded person until it comes to ignorance." Michelle Obama has always been one to shut people down for ignorance and Brigid relates to it because she, "Cannot stand ignorant people."
Another trait from Brigid is she is a feminist; Brigid's beliefs are that everyone should have equal rights. Men and women, everyone should be treated with fairness whether it's the color of their skin, religion or sexuality. Brigid quoted "It's upsetting to me that some people think women are inferior to men or can't do the same things they can! If a man can do it, women can do it better!" Everyone has a voice to be heard and Brigid believes that "With the motivation and passion, anyone can do anything."
With all of this information, this is what makes Brigid, Brigid. She is one of a kind and there is no one like her. She is a kind girl who has a strong head on her shoulders. She's open minded, strong, and kind. When you meet her, you definitely won't be able to forget her.
Brigid Reilly, Reporter
Oct 23, 2020

Presidential Candidate Outlook: Joe Biden (D) & Howie Hawkins (G)

(Story)

Jan 21, 2020

Australia in Flames

(Story)

Dec 15, 2019
Dec 03, 2019

JAVA's No Shave November Results

(Story)

Dec 03, 2019

What Makes a Perfect Woman?

(Story)

Oct 31, 2019

New School Lunches Come to Adams

(Story)

Oct 03, 2019

Millions Participate in Global Climate Strike

(Story)

Sep 19, 2019

The 2019 Guide to Fall

(Story)