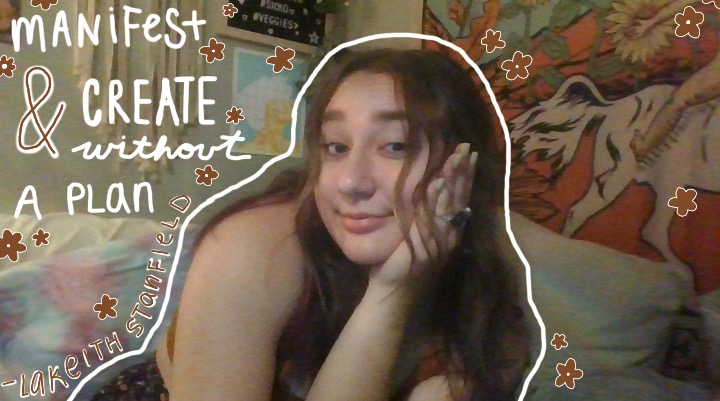 Anna Schrader, a senior at John Adams, will be contributing her writing, art, and photography to The Tower for her third year in a row. After parting ways with her previous interest in athletics, she has been able to devote herself to doing what she is truly passionate about- the arts. Through the use of studio art, fashion and textile design, photography, and even graphic design, she is able to create an expression of herself to share with the world.
Although art is a very important part of her life, academics are also critical. Anna is a part of the IB program, CTE Work-Based Health Sciences, National Honors Society, and National Technical Honors Society. She manages to balance being a full time student, employee, artist, and upcoming business owner while still trying to keep time for her own personal art and hobbies, like yoga, music, movies, vegan eating, and tarot. Friends would even say that "Schrader is sky high on the groovy meter."
Through her love of creativity and intuitive thinking, Schrader hopes to make an impact on the newspaper by inspiring, educating, and entertaining readers. With her writing focus on human rights, sustainability, spirituality, environmental impact, animal rights, fashion, and art, Anna hopes to be able to reach and educate a wider audience. She believes journalism and art pair wonderfully together, and wants to share her abilities with the world. As Creative Director of The Tower, she is focused on making digestible and visually appealing media for her peers, and genuinely hopes to make a difference in even just one person's life.
Anna Schrader, Reporter / Photographer
Dec 16, 2020
Dec 04, 2020

Virtual Tarot Readings

(Story)

Nov 12, 2020

How BLM Is Influencing Artists

(Story)

Oct 23, 2020

Local Art in the Time of COVID-19

(Story)

May 18, 2020

The Quarantine Diaries

(Story)

Mar 12, 2020

Understanding Tarot Readings

(Story)

Feb 18, 2020

The Power of Your Past

(Story)

Feb 05, 2020

Starting a Conversation- Jubilee

(Story)

Jan 16, 2020

Understanding Astrology: Fact or Fiction?

(Story)

Dec 19, 2019

Fine Line by Harry Styles

(Story)

Dec 03, 2019

Redefining Masculinity in 2019

(Story)

Nov 15, 2019

What You Didn't Know About The Meat Industry

(Story)

Oct 31, 2019

Ema Amstutz & Logan Hansen

(Story)

Oct 03, 2019

Fast Fashion is Ruining Our Earth

(Story)

Sep 19, 2019

Passion Project- Giving Students An Outlet To Speak Their Truth

(Story)

Apr 18, 2019

A Guide to Aesthetically Pleasing Photoshoots

(Story/Media)

Mar 27, 2019

Grrrl Power

(Story/Media)

Mar 27, 2019

This Isn't Justice

(Media)

Mar 24, 2019
Mar 01, 2019

Sandmann Sues Washington Post

(Story)

Feb 14, 2019

The Ultimate Guide to Bullet Journaling

(Story)

Feb 03, 2019

The Best of Netflix

(Story)

Jan 16, 2019
Dec 19, 2018

Standardized Tests: Do We Really Need Them?

(Story)

Nov 07, 2018

Mural Club Brings Art to Adams' Walls

(Story)

Nov 07, 2018

Ugandan Activists Visit Adams to Spread Awareness and Raise Funds

(Story/Media)

Oct 24, 2018

Adopt, Don't Shop

(Story/Media)

Oct 24, 2018

The Mind of Jake Paul:

(Media)

Oct 04, 2018

IB Students Compete And Win In Statewide Finals Of Indiana Science Talent Search

(Story)

Oct 04, 2018
Sep 25, 2018

Alexandra and Hannah Mihut

(Story)

Sep 17, 2018

New Teachers Come To Adams

(Story)