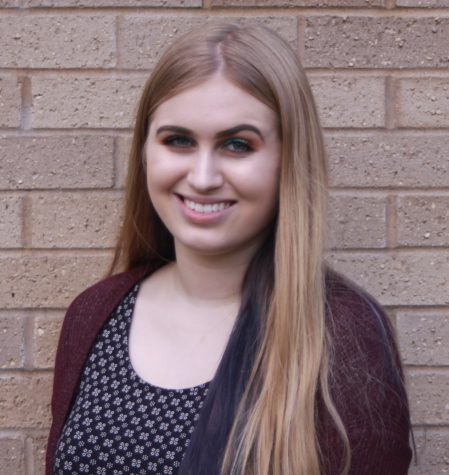 Sierra Weaver, an Adams sophomore, is in her second year of writing for 
The Tower. 
She greatly enjoyed her experience last year while writing and meeting new people. In addition to writing for
The Tower
, She also participates in Mock Trial and Model United Nations. Mock Trial requires a large amount of writing and looking at situations from two sides, so she is able to really work and focus on those skills. Model UN is about representing a country, and putting one's own personal beliefs aside to better a larger group. She finds this helpful for writing for 
The Tower
, as it has reminded her to avoid bias and work for a larger project that will benefit the school. Both of these activities have helped her look at situations from multiple sides, as this is an important quality to any sort of writing, particularly journalism. In addition, they have helped with her public speaking skills, which will aid her in interviews. Throughout this year, she hopes to continue to work on these skills and become a better writer. She also plans to continue being part of
The Tower
throughout the rest of her time at John Adams High School.
Sierra Weaver, Editorials Editor
May 06, 2019

Solitary Confinement Isn't Solving Problems

(Story)

Apr 18, 2019

A Guide to Spring

(Story)

Mar 27, 2019

This Isn't Justice

(Story)

Mar 24, 2019

8 Teams Go To State, One Places, None Win

(Story)

Feb 28, 2019

Recaping the Oscars: No Host with Some Suprises

(Story)

Feb 14, 2019

Shane Dawson's Newest Series

(Story)

Feb 03, 2019

The Importance of Decreasing CO2 Emissions

(Story)

Jan 16, 2019

The Problem with New Year's Resolutions

(Story)

Jan 16, 2019

Golden Globes 2019 Recap

(Story)

Dec 20, 2018

Adams' Musical Talent Shines at Tower Rock

(Story)

Nov 28, 2018

The Death Penalty: A History and Its Issues

(Story)

Nov 08, 2018

The Impact of Drugs in the Criminal Justice System

(Story)

Oct 24, 2018

The Mind of Jake Paul:

(Story)

Oct 04, 2018
Oct 04, 2018

Anna Guzik Advances to Golf Regionals

(Story)

Sep 13, 2018

Crazy Rich Asians

(Story)