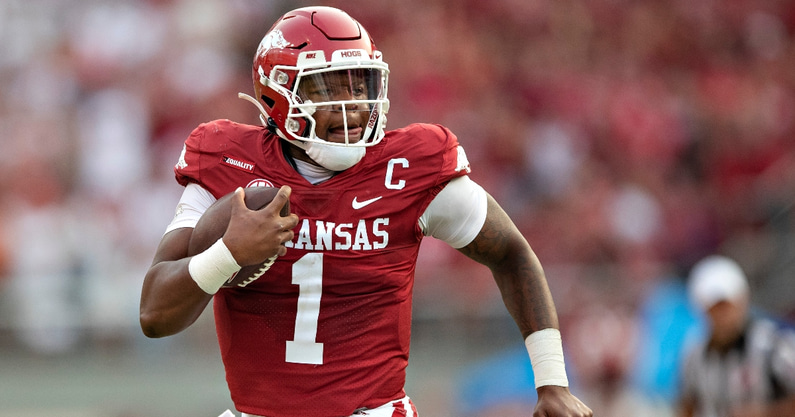 Wesly Hitt | Getty Images
We have officially entered the second month of the College Football season. There have been some shocking upsets and some interesting storylines for instance, Notre Dame falling to 1-2 and Kentucky entering the top 10. Georgia has been continuing its dominance and is the favorite to win the National Championship. The rest of the College Football Playoff is a close race with Alabama, Ohio State and Michigan rounding out the top four.
#5 Clemson vs #21 Wake Forest (Clemson -7)
The battle for the ACC has never been closer. Despite their difference in ranking these two teams are both capable of winning the conference. Clemson's rush heavy offense versus Wake Forest's pass first offense the pace of the game will be determined by which offense finds more success early on. Wake Forest can score quickly so do not be surprised if Clemson gets down early. Do not let the spread or the rankings fool you, this will no doubt be an exciting game.
#20 Florida vs #11 Tennessee (Tennessee -10.5)
One of College Football's bitter rivalries meets in one of the most ferocious environments in all of sports. Both of these teams are ranked in the top 25 and ready to put the past couple of seasons behind them. Both teams have great dual-threat quarterbacks and great running games, expect a very balanced match up. This game could come down to the last possession.
#22 Texas vs Texas Tech (Texas -6.5)
The battle for Texas is this week and with Texas starting QB Quinn Ewers out after an injury against Alabama the game will be closer than anticipated. The Longhorns will have to look to QB Hudson Card to carry on their success. The Texas defense will have their hands full with the Red Raiders passing attack. Expect a lot of scoring in this one.
Notre Dame vs North Carolina (North Carolina –1) (Game of the Week)
Notre Dame's struggles have been a closely watched storyline this season. This game could determine if ND can keep their season alive. This is a game of polar opposite teams. Notre Dame has struggled offensively, only averaging 18.3 points per game. North Carolina is a fearsome opponent, averaging 51.3 points per game. The winner of this game will be the team that takes advantage of the deep ball but doesn't turn the ball over.
#10 Arkansas vs #23 Texas A&M (Texas A&M -2)
Arkansas finally has a chance to make a name for itself in the College Football Playoff landscape. One of their hardest challenges lies ahead though. Last year this matchup was a rough, hard fought battle. Expect the same this time around. Texas A&M's defense got even better this season and Arkansas has retooled its offensive talent. This matchup will be memorable.