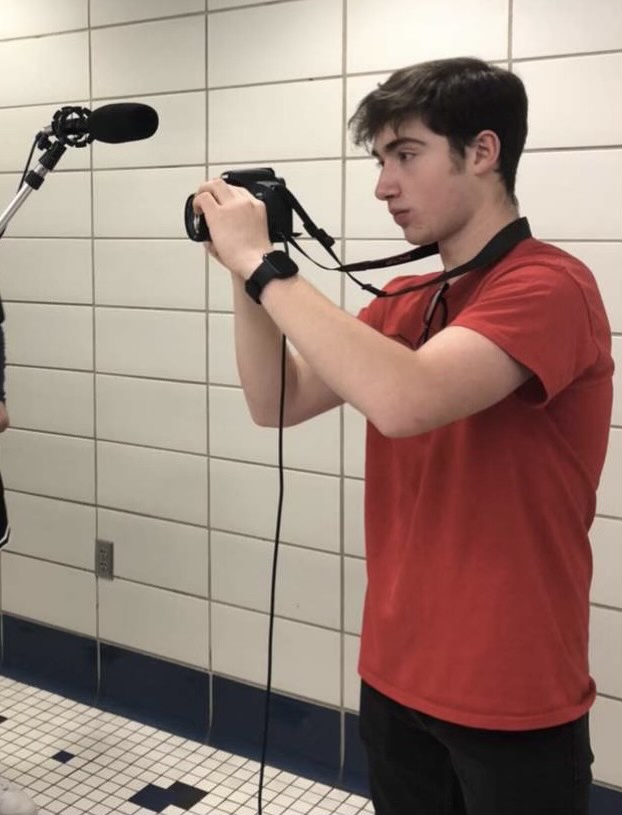 Samuel Villagara-Stanton, is an exceptional senior graduating from Adams. Sam is involved in newspaper, cross country, track, he is the president of NHS and a student advisory board member of the International Youth Silent Film. Sam's most outstanding accomplishments is his first film, My Madeline. His film won second place in the Detroit Regional at the International Youth Silent Film Festival. He then went on to also win the Project Pigasus screenplay contest, which has led to the opportunity for a professional film company to produce his script into a short film.
Sam found his love for film at the young age of seven. He started with acting, which introduced him to a variety of other art forms. He has always been interested in drawing, acting, music, and writing, and film combines those passions. Sam views film as the ultimate art form because "it tells a story through multiple art mediums." His favorite types of films to create are noir and horror. Sam hopes he can add another Latin voice to cinema and to help influence the next generation of Latin filmmakers. 
Sam started cross country his second year at Adams. He decided to do it because all of his friends got into it. He instantly fell in love with the sport. Cross country challenged Sam to become both physically and mentally strong. In cross country, his greatest achievement was his own personal record in the 5k which he ran in 18:00 flat. In track, he has not gotten a whole season, but he hopes to this year. He hopes to participate in both sprints and long-distance events.
Sam's days are really busy, but he always finds a way to be a filmmaker, student-athlete, and an IB certificate recipient. This year, he hopes to get an Academic Honors diploma. Next year, Sam has not decided where he wants to go. He has been accepted to Loyola Marymount University, DePaul University, Columbia College Chicago, IU Bloomington, and Emerson College so far. He is still waiting to hear back from more film schools. He has also received the prestigious Depaul State Scholar Plus scholarship. In college, he plans to study film and become a director that gets to make any film he wants. 
Sam is a very lovable, goofy and nerdy kid. He can always cheer anyone one up and his presence is always the best you can ask for. It is truly sad to watch Sam graduate, but Adams wishes him the best in the next chapter of his life. He will soon be a famous filmmaker and will always leave his mark at Adams.