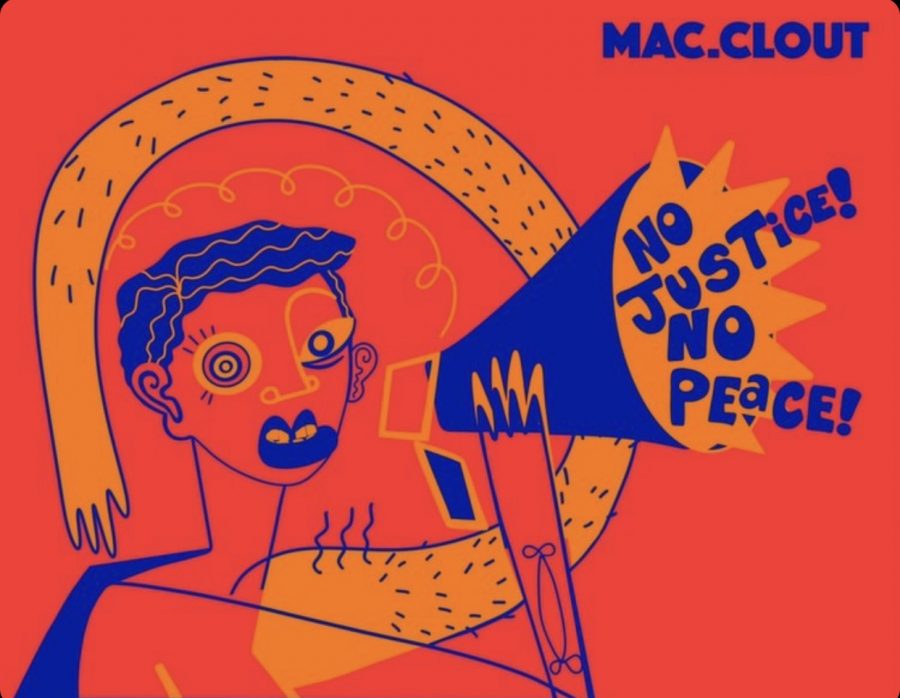 @mac.clout
After the death of George Floyd, an unarmed black man who was murdered by officers while in police custody, protestors and outraged citizens around the world began speaking up against police brutality and racial injustice through the Black Lives Matter movement. The movement has sparked protests all around the world, from holding handmade signs in a small rural town, to marching on busy streets outside the White House. With all of that aside, the movement has one clear message- black lives matter. Artists from all walks of life have been using their art as their own form of protesting and expression. From social media posts to street art and murals, artists are using their creativity as their voice.
"Art is making a huge impact on Black Lives Matter. In a way, our message is almost stronger through art."
Matt Paskell, a local midwestern artist known as @childhoodsummedup on Instagram, has been able to show his support through the use of his animated drawing style and nostalgic animations. Paskell takes well known cartoon characters and changes their skin tone to show diversity within something we all grew up watching on television.
"This art is allowing black people to embrace their culture."
Social media is also an incredibly important part of how artists share their work. Artists rely on likes and follows to start careers for themselves. They must grow a platform to be able to share their message, but not everybody's voice is being heard.
"Ever since the Black Lives Matter movement I have been a bit more respected online as a black artist. Unfortunately, I recently found out about algorithms placed on platforms that cause people of color to receive less views."
Facebook along with other social media platforms have admitted to this, and have done further research to begin preventing this in the future (https://www.vox.com/recode/2020/7/22/21334051/facebook-news-feed-instagram-algorithm-racial-bias-civil-rights-audit). The fact of the matter is racial bias exists everywhere. This is why supporting artists of color is so important in an online world where they already have a disadvantage solely because of algorithms designed to make money for large corporations. 
Chloe Duke, better known as @mac.clout on Instagram, has been protesting both online and on the streets.
"Of course, I went to protests and painted protest signs, but it didn't feel like enough. I knew I could do more."
Chloe, who was living in Detroit at the height of the protests, saw beauty in the chaos. Within the outraged citizens yelling in the streets was art within itself. She saw the photos and videos later posted on social media in real time, and was even able to be a part of this history in the making. Demonstrators being hit by police cars, tear gas, innocent men and women being arrested, and flying rubber bullets were just the beginning.
"All while this was going on, my following was growing on my social media and I was making money. In the Civil Rights Era, bail funds were an amazing way to help get people out of jail who were wrongfully detained or booked during protests. I saw that happening on the streets, so I decided to try and use my platform for good. I started a campaign on my webstore called Art For a Cause. I gave away free art prints to people who made donations to Black Lives Matter or Bail Fund Projects. I made t-shirts that had proceeds go towards charities like the Equal Justice Initiative. In the first couple weeks of the Art For a Cause campaign we raised over $1,000 for bail funds."
( You can shop Chloe's webstore here www.maccloutshop.com )
Now the question at hand is "Is art an effective way to protest?" Art has been a form of protesting since the beginning of history. From propaganda posters, anti-war art of the 1960's, Haring's HIV/AIDS awareness pieces of the 1980's, to the current day artwork by women, people of color, and LGBTQ+ individuals. Art as a form of expression may be the loudest and most powerful voice we have as citizens.
"I learned during this time that not everyone can go out and protest, putting their bodies on the front line of a revolution. It's work- it's exhausting, frustrating, dangerous work. But there are things that can be done behind the scenes. There were murals painted, musicians and DJ's that shared their creative talents to keep protestors energized, dancers walking in the streets. At times it felt more like a celebration than a fight. That was needed to keep people inspired, to give people hope. That's the power of art in protest."
Chloe has started to shift her art more towards the social awareness side of things. Her art includes women and people of color, feminist quotes, and powerful imagery. Through her background in art education, she is also able to teach young people in schools about the importance of self-expression and making meaningful art. This mindset will help to influence generations of creatives for years to come.
"There's never a wrong time to stand for the right thing. No matter how ugly things get, we all have the power to create our own beauty in the mess of it all. Art at its core is a statement and art at its core is political- it can make people think and feel at the same time. As an artist, it is my job to challenge the viewer, make them question what it is they are looking at and what it is they believe. If you ain't doing that, then you ain't doing it right."