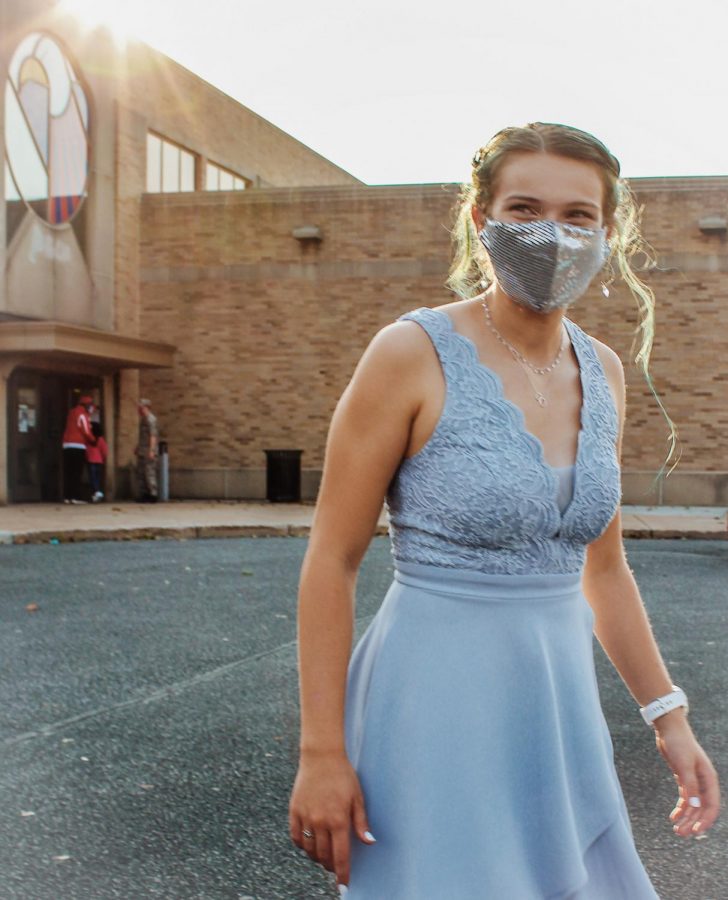 Hannah Connell
Monica Caponigro: If I could use only one word to describe Monica Caponigro it would be resilient, but anyone who knows Monica knows she is not easily defined. Throughout her high school career, Monica has been an inspiration to students and a force for good in our community. She has worked tirelessly as a full-IB candidate, Student Body President, Show Choir Choreographer, and Varsity Cross Country captain. Monica has also represented Adams in Mock Trial by helping her team advance to state for two consecutive years. She enjoys being a member of NHS and has fond memories from her four years of Model UN. 
Outside of school, Monica is a youth leader and AmeriCorps member at the Robinson Community Learning Center. Through this program, Monica promotes the importance of education and the arts. She shares her love of theatre with young children and leads them towards successful futures in the arts. Her passion for theatre has opened countless opportunities; allowing her to perform at the renowned Globe Theatre in London in 2017. This past winter, she won first place at the Shakespeare Monologue Competition. In all her involvements, Monica leads with compassion and is determined to better herself and those around her. "There is a quote from Mother Teresa that has always inspired me. She said, 'we can do no great things, only small things with great love.' " While reflecting on this quote Monica smiled, "I try to do little things each day with great love to remind myself that I am a part of something larger than myself."
For Monica, family is the guiding force in her life. When asked about the relationship with her family Monica affectionately said, "They encourage me to be the person I want to be and not the person other people think I should be." Monica's character should come as no surprise since her family has made an indelible impression on our school. Her sister Maria teaches Spanish in the Foreign Language department and her brother, Mitchell graduated from Adams last year with an IB diploma. In the future, Monica hopes to pursue a career in either film or education. She is grateful for her family's support throughout high school and for encouraging her to work for her dreams. "I still feel that I am finding myself and who I want to be […] Trying to figure out my passions and which direction I want to go in life, being confused about what to do and where to go has taught me to take risks, try new things, meet absolutely brilliant people."
Monica understands that the stress of high school and rigor of IB courses can often feel overwhelming. Still, she encourages underclassmen to, "put yourself out there and to continue to take risks." Monica believes that, "It's important for our generation to understand that we are the future and that it is our responsibility to uphold that." When asked how she stays in control of her busy life, Monica laughed and said, "I really rely on writing things down, asking other people when I need help, and communicating when I can't do everything right then. Communication is super important, not only with other students but with teachers and other adults in your life."
Finally, Monica wanted to share a thank you message to her most influential teacher. "Mrs. Stanton- thank you for being my mom at school, from being there to talk about family issues and school gossip to giving advice about life, and school, and growing up. ¡Muchísimas gracias, señora, siempre!" 
The truth about Monica is that she is entirely selfless. She is the teammate, friend, neighbor, and sister that anyone would be blessed to know. The Talon is proud to recognize Monica Caponigro for all her dedication and efforts to making John Adams a more welcoming space for everyone. Whatever she decides to pursue and wherever she is in the world, we wish her complete happiness.