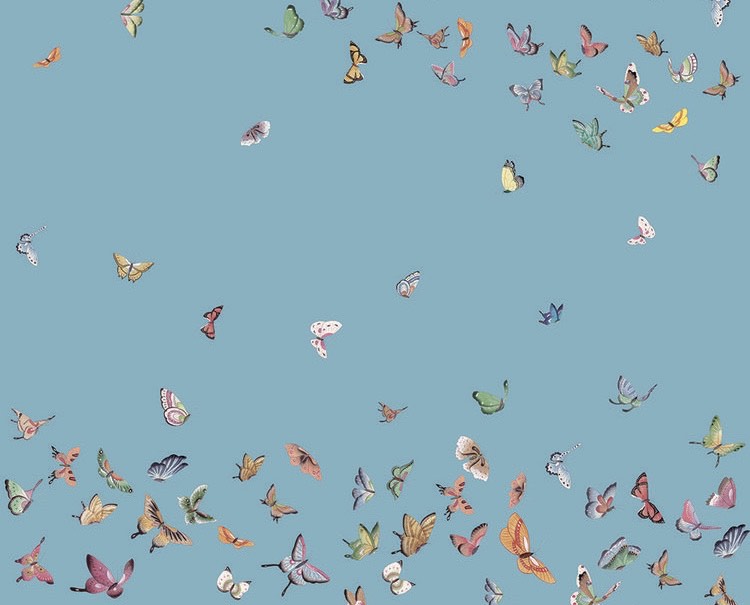 (Zen Collection Butterfly-260301 Silk)
This past weekend, I found myself in my car, windows down, blasting music, and singing along to every word of whatever song came on. The songs came from the playlist I made for myself, called "Feels Like Sunshine". There were a couple songs that I liked the most, though. Some of them are songs that aren't really talked about, but that just makes them even better. Here are my top ten, "feel good" songs. 
Walking On Sunshine- Katrina and The Waves
A fan favorite. Everyone has heard this song and/or knows every word to it. This song has been on repeat for me for the past week. With it's melody and lyrics, it's pristine instrumentals- "Walking On Sunshine" is a classified bop that can put anybody in the best mood. 
The Wire- HAIM 
Definitely one of the lesser-known songs and artists on this list. HAIM is an all girl, alternative/rock band, and "The Wire" is just one of many songs that's melody and lyrics and instrumentals create one, fantastic song. This song has a mood to it that's kind of unusual, not gonna lie. But, it's also one of those tracks that's easy to sing along to and can easily be on a party playlist and be a crowd favorite. 
Memories- Maroon 5
This song is unlike anything I've heard before. It's tone is very light, there's very little instrumentals to it, it's mostly just voice and harmony. There's a bittersweet theme to it. Yes, it makes the listener feel light and happy, but it also, simultaneously, gives a feeling of longing and nostalgia. It's beautifully written, while being powerful and vulnerable at the same time.
Drift Away- Dobie Gray
A classic. This is a song that combines the themes of sadness and happiness, seamlessly. The song opens with the lyrics "day after day I'm more confused, yet I look for the light in the pouring rain", which sets the tone for the rest of the song. The chorus comes in with "give me beat boys, and free my soul. I want to get lost in the rock 'n roll and drift away". The lyrics, melody, and instrumentals provide a theme of hope for its audience, and reminds them of the good that's in the bad. 
St. Elmo's Fire- John Parr
I never knew the title of this song, but I've always loved the song itself. I'm not sure how to describe it other than it's just a cool sounding track. It's a very rock 'n roll, blast-with-your-windows-down song, that's really fun to sing-along and dance to. When you look at the lyrics, though, you see that it's really a song about believing in yourself and pursuing what it is you've dreamed about. 
Love- Lana Del Rey
This is a song all about being young. It has a very reminiscent tone to it, as she looks back on what it feels like to be young and in love.  Dressing up to go "nowhere in particular", it highlights the best parts of living life, care-free when you're young. 
Only The Good Die Young- Billy Joel
Billy Joel has some of my absolute favorite songs, but this one is the most fun, in my opinion. It alludes to a girl named Virginia, who spends her time in the church, lives a God-centered life, and doesn't really go out and experience all of what life has to offer. Billy tries to convince her to come and experience the fun in life, not doing necessarily what God would want her to do, but doing what she wants her to do. The title "Only The Good Die Young" means that if you live life being safe and cautious…you're not really living. 
Islands In The Stream- Dolly Parton & Kenny Rogers
One of my mom and I's favorites. We duet to this all the time in the car; and my I just say, Dolly's part is superior. I'm not so sure what it is that makes me like this song so much. I think it's just because it's fun to sing, honestly. The harmonies in it are incredible and the tune of it makes listeners feel good. 
Good Old-Fashioned Lover Boy- Queen
An exceedingly classified bop. This song is very upbeat and fun. It's honestly, in my opinion, one of Queen's best, yet I rarely hear anything about it. It tells about asking someone out and being chivalrous to who he's taking out. It's a song I recommend to everybody because it's very universal, upbeat, and happy. 
Golden- Harry Styles
As Harry said, this is a track you listen to, full volume, windows down, in Malibu. It's such a summery, dance-to-this and sing-along song that enlightens and changes the mood of the listener. It's easy to have fun while listening to it, if that makes any sense. It's a party favorite with multiple beat drops and it's easy to dance to. It's definitely going to be my song of the summer. 
Isabella's Top Ten playlists: 
Apple Music: https://music.apple.com/us/playlist/isabellas-top-ten/pl.u-oZyllR1TRz8jrqx
Spotify: https://music.apple.com/us/playlist/isabellas-top-ten/pl.u-oZyllR1TRz8jrqx
Youtube: https://www.youtube.com/playlist?list=PL4ein97FcHl5Z1PTwqCGRnxe4hDk7dPn5