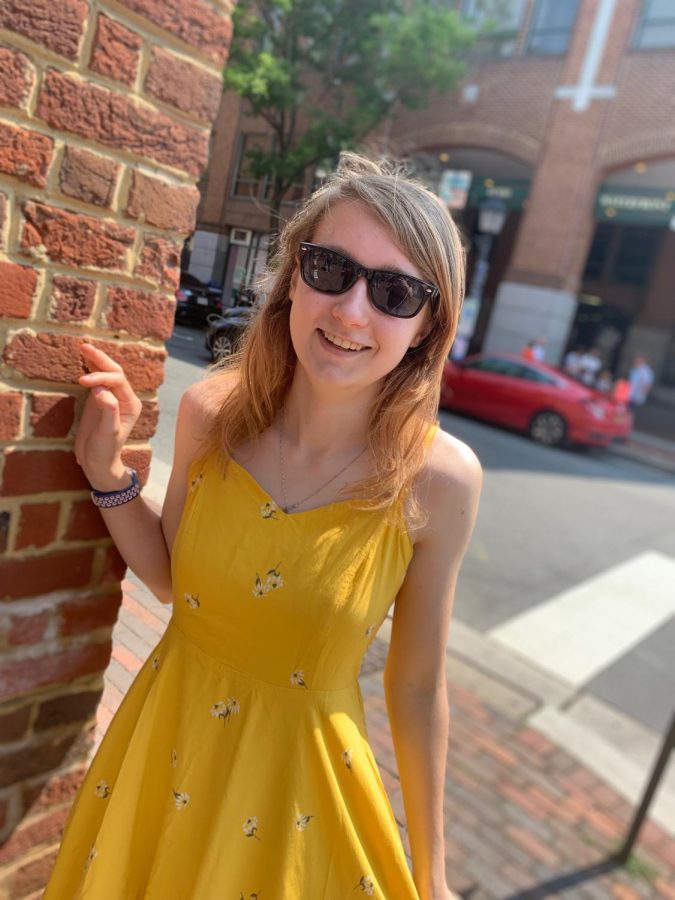 Kendall Moore will be graduating this June, after spending the past four years in Adams and leaving her mark on many of the clubs and groups of the school. She has been involved ever since her Freshman year, adding different activities or hobbies each year to explore her interests. She has participated in Quiz Bowl all four years, has volunteered avidly throughout the community, and completed her own independent scientific study as a part of the Science Research program. She joined Science Olympiad her Junior year which she has had great success in and will be competing in the state competition in March. 
Alongside her extensive list of extracurriculars Kendall is also a full IB candidate, demonstrating her academic strengths. She says that the IB program has played a large role in defining her as a person, through its many challenges and rewards. "It's helped me think outside of the box, think creatively, learn to delegate my time to certain things, and it's really challenged me," Kendall describes. "I think it's been worth it," she says with a smile. Her favorite class in the program was IB Biology, a subject she hopes to study in college. "I love Ms. Troxel and Dr. Sparks, they're such great mentors and such great teachers and they have really taught me so much."
Her volunteer work with animals has been the most influential in her life, and has helped her understand her abilities and aspirations in the medical field. In her Sophomore year Kendall began volunteering with Pet Refuge's local Cattery, which she helped clean and socialize with the cats up for adoption. From there, her work with animals has continued and she now finds herself administering medications, doing blood work, giving vaccines, and helping facilitate adoption events. "[Volunteering with animals] helps me realize my role in the community," she comments. "I've met so many wonderful people through volunteering it's kind of insane almost, and not only the volunteers that are great but also the people who adopt my cats."
Outside of her volunteering with animals, Kendall has also been a vital member to the Adam's Science Olympiad team. Just last weekend, Adams placed first overall in the Regional and will be advancing to State. One of Kendall's favorite memories of her high school career was made during the 2019 statewide competition: "We stayed in a really nice hotel and we got to eat at all these fun hot spots in Bloomington. We had a great time at the competition, and we had to run all over campus to get to our events so it was kind of hectic, but we had a great time with all of that." On Saturday, February 15 they will be competing at the University of Michigan before heading down to Bloomington several weeks later. "We're just cramming all of our studies in, trying to improve on our build events, and doing a lot of hard work there."
After she graduates from Adams Kendall will be attending Purdue University with a major in Biology while pursuing the veterinary medicine track. Although she is extremely excited for her next step, Kendall is also somewhat nervous. "I do a lot of fostering [of cats] and I don't know how that will work out. I chose to go to Purdue because I would be closer to home. I'm a little nervous about meeting new people, but overall I'm really, really excited."
Finally, Kendall offered her advice to underclassmen. "Get involved," she says. "Get involved earlier rather than later, get involved with clubs and extracurriculars as that's how you are going to meet people and that's how you are going to feel like you fit in." And, there's no argument about it, Kendall has definitely headed her own advice throughout her high school years.