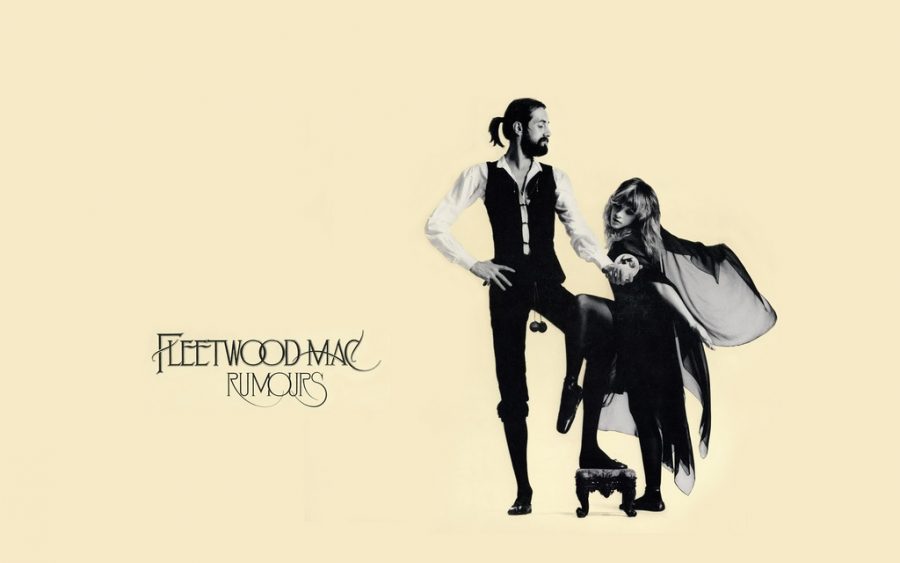 One of the best selling albums ever, Rumours by Fleetwood Mac, was a staple in many households in the late 70s, through the 80s and beyond impacting the lives of today's Generation Z as well. Fleetwood Mac was a very fluid band always reinventing themselves with new members. When Rumours was written the members at the time were Lindsey Buckingham (vocalist and guitarist), Mick Fleetwood (drummer), Christine McVie (keyboard player and vocalist), John McVie (bass guitarist) and Stevie Nicks (vocalist). The band was going through many troubles mainly rooted from relationship problems; the marriage of the McVies, the eight-year relationship between Linsey Buckingham and Stevie Nicks and Mick Fleetwood's marriage whose wife was not a part of the band. Due to the fact that there were so many problems a lot of rumors were being spread about the group in tabloids, so Mick Fleetwood suggested the album be named rumours. The album took eleven dreaded months for the band to write, record and produce which also included a lot of fights and arguments between the band members. The album shows many personal and vulnerable sides to a relationship that fell apart. This is that album.
Second Hand News 
"Second Hand News" is the opening track of Rumours and was written and performed vocally by Lindsey Buckingham. It has a very folk and acoustic sound with a very upbeat and happy sound. It talks of losing and missing a lover who has moved on and met someone new. This most likely a nod towards vocalist, Stevie Nicks and her affair with Mick Fleetwood after her and Lindsey's breakup. Lyrics such as "I know there's nothing left to say/Someone has taken my place" and "One thing I think you should know/I ain't gonna miss you when you go" really show the hurt and longing to move on from his previous lover even if it's the best thing for him in the end. He knows his relationship is in the past and there's no more left of what was once there. This song is an amazing song to start off the album because it gives the listener a preview for what's to come. An album of true heartbreak.
Dreams
"Dreams", the second track on the album, was written and performed vocally by Stevie Nicks. "Dreams" was the third single Fleetwood Mac released before releasing the album. In an interview for Blender magazine in 2006, Nicks expressed how quick it took her to write the song, "I found a drum pattern, switched my little cassette player on and wrote 'Dreams' in about 10 minutes." She took the song to the rest of the band and each person added to the simple chord their own spin on their instruments part giving it a more groovy and melodic feel. This song speaks the truth of leaving for the benefit of yourself. Nicks expresses the feeling of being too involved in a relationship and having different expectations as her partner and it's hurting her as well, she is frustrated and wants to leave. Lyrics like, "But listen carefully to the sound of your loneliness," and "In the stillness of remembering what you had, oh, what you lost," express the side of her not wanting to leave and not leaving because she didn't have feelings for her lover but leaving because she didn't feel valued in the relationship anymore.
Never Going Back Again
"Never Going Back Again" was written by Lindsey Buckingham. The song is very sweet and innocent with a very authentic picking pattern from an acoustic guitar. It's a very pretty and short song with two verses with only two lines and a chorus that's repeated twice with only three lines. The song shows the emotional journey of someone recently getting out of a breakup and trying to open up to new people and relate to people who have had shared and similar experiences like the lyric, "She broke me down and let me in/Made me see where I'd been." Buckingham relates to the person who he's with now remembering the feeling of breaking down and letting someone in like in a previous relationship he had. 
Don't Stop
"Don't Stop" was written by Christine McVie and vocally performed by both Christine McVie and Lindsey Buckingham. "Don't Stop" was one of the four singles released from the album in the spring of 1977. It was written after the divorce of keyboard pianist, Christine McVie and bass guitarist, John McVie. The song gives the incentive to keep moving forward through tough times. The lyrics "Open your eyes and look at the day/You'll see things in a different way" give off the impression that Christine was having a rough patch and this song was her way of giving herself a reminder that things will be okay. The chorus also brings on that feeling of moving on and having faith in the future with the lyrics, "It'll be better than before/Yesterday's gone, yesterday's gone." The song has a very upbeat sound with a happy motivational message during a tough time period brought from personal experience of the songwriter. 
Go Your Own Way
"Go Your Own Way" was written and performed vocally by Lindsey Buckingham and was also another single released off the album. This song was the very first song that Lindsey wrote for Rumours about a partner getting up and leaving their current lover. Stevie Nicks, who the song is written about, expressed to Rolling Stone how difficult performing this song live was for her, Buckingham knew that and so did everyone else, but because the song was a fan favorite she always just powered through it. Understandably when lyrics from the song include, "Packing up, shacking up's all you wanna do" saying that all she wants to do is leave and bounce from guy to guy and that she's free to 'go her own way' and leave because he doesn't want to put up with that anymore. The song has a very country and road trip sound. It has a very easy and steady tempo throughout the whole song with a powerful chorus and vocals from Buckingham. One can hear the power behind the lyrics and vocals of a man struggling to move on.
Songbird
"Songbird" was written and performed vocally by Christine McVie. The song is about putting someone you love over yourself in a relationship. It's a very soft and melodic ballad with very moving lyrics. McVie sings "To you, I'll give the world/To you, I'll never be cold," stating how she loves him so much that she will give up anything and act certain ways around him purely to appease him even if it means hurting herself. At the bridge of the song lyrics such as, "And I wish you all the love in the world/But most of all, I wish it for myself," saying she does love him but maybe starting to realize that she also deserves to feel as loved as much as she is willing to love. 
The Chain
The Chain, easily the most popular and best-known Fleetwood Mac song, is the only song on the album credited to all the members of Fleetwood Mac but is vocally performed by Lindsey Buckingham and Stevie Nicks. Metaphors are everywhere in this song and shows all of the feelings throughout a breakup, bitterness, anger, resentment, calm disbelief and goes back to a loud and powerful rage. This is represented both instrumentally and lyrically. Picking only a few examples from lyrics, you can see meanings such as reflections over a long period of time over a failed relationship in the lyrics from two verses. From the first verse the lyrics "Listen to the wind blow/Watch the sun rise," and in the second "Listen to the wind blow/Down comes the night." Other lyrics include, "Damn your love, damn your lies," almost saying that their love and their lies are one in the same. Instrumentally between the chorus and the outro of the song there is a bass and guitar solo that shows the build up of anger, starting with a slow and low bass line being build up by a drum tempo starting to quicken that is taken over by a guitar solo getting increasingly louder and louder accompanied by all the other instruments. The song is filled with passion and heartbreak hearing both Buckingham and Nicks singing together. The Chain will forever be known as one of the greatest songs of all time.
You Make Loving Fun 
"You Make Loving Fun" was written and performed vocally by Christine McVie. This song was released and the fourth and final single before the release of the full album. It's main inspiration was a quick relationship between Christine after her and John's divorce. "You Make Loving Fun" really stands out because it is a love song and has a very different approach compared to the other song. It is a very optimistic song while the other songs are mostly from more of a pessimistic view. The song is about telling someone how much they love them. Lyrics like "You make me happy with the things you do," and " I never did believe in miracles/But I've a feeling it's time to try," confirm her feelings for someone and feeling like they are able to take a chance with them. 
Oh Daddy
"Oh Daddy" was written and performed vocally by Christine McVie with background vocals from both Buckingham and Nicks. Christine wrote the song for Mick Fleetwood because he was the only father out of the whole band. The song is a very emotional one rooted from the idea of self criticism and insecurities. Some lyrics from examples of these feelings are "How can you love me/I don't understand why," and "If there's a fool around it's got to be me." Also lyrics such as "I'm so weak but you're so strong," and "And I can't walk away from you, baby, if I tried," stating how depended and blindsided this person is for their lover. They are too scared to leave the relationship that may be toxic and unhealthy just because it is familiar and don't want to be alone. 
Gold Dust Woman
"Gold Dust Woman" was written and performed by Stevie Nicks. Something that really makes this song something special on Rumours was the creative and unique instruments used. Instruments such as an electric harpsichord and cowbell were used.