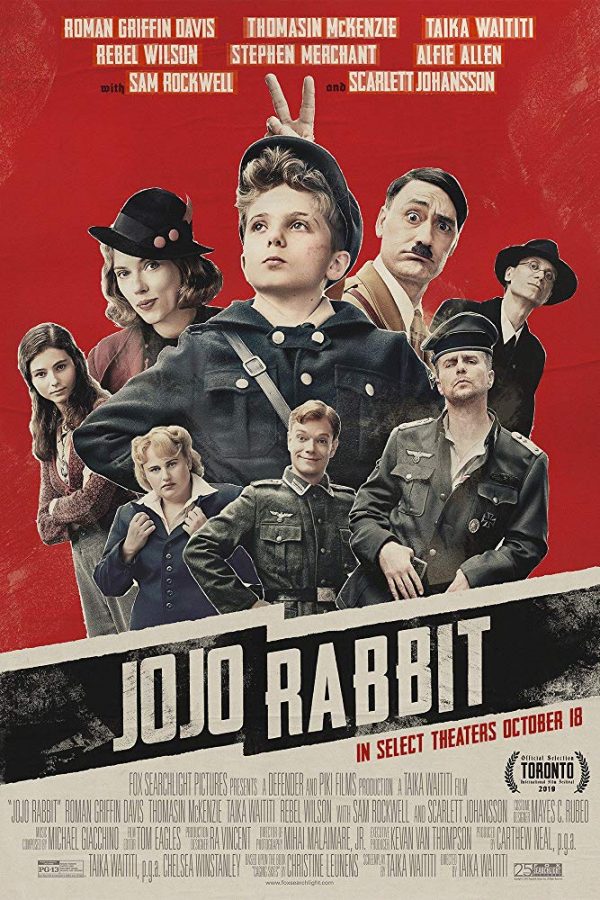 When a trailer about a Nazi youth recruit (whose imaginary best friend is Hitler) set in the tailend of World War II was being presented as a PG-13 comedy, it's safe to say that it clearly perked the interest of the general media, myself included. The big question plaguing Fox Searchlight studios (and their now-official head, Walt Disney Studios) was whether or not this seemingly oddball comedy would land safely in the sensitive political landscape we currently find ourselves in. Does a comedy about a kid and his imaginary friend, Adolf Hitler, work as a feature length picture? It certainly does. Jojo Rabbit is a charming movie that, behind the comedic surface level it presents in the forefront, explores the basic human thread weaved between us all, love.
Waititi recruits some A-list talent, both new and seasoned, for the delightful tale of Johannes "Jojo" Betzler. Jojo himself is played brilliantly by newcomer Roman Griffin Davis, whose glee-inducing performance has already been marked by a Golden Globe Nomination for Best Actor in a Musical or Comedy. Joining Davis in his coming-of-age story is Thomasin Mckenzie's Elsa, the enigmatic young Jewish woman Jojo finds living in the walls of his house. Mckenzie's nuanced performance, much like her character, is slowly ushered out as Jojo learns the true evils of the Nazi party. Joining the two front runners are seasoned actors, Scarlett Johansson and Sam Rockwell, who are both charming in their own right. Each character has a fitting arc that is explored throughout the film, with each story ending completely reversed from the way it was introduced. Scarlett Johansson's arc is particularly effective in this touching wartime comedic coming-of-age picture, with visual imagery leaving a lasting impact on the audience.
Jojo Rabbit is cleverly comedic, utilizing the best of the talents involved to deliver a bold, heartwarming message in an age of polarizing politics, similar to the environment of Jojo's ever-changing world. Accompanying the visuals (wonderfully elevated by stunning early 1900s set and production design) and intelligent performances is well-known composer Michael Giacchino's youthful score which adds layers to the mood that director Taika Waititi wishes to convey. With a top notch cast, writing and direction from a wonderfully imaginative director, with it all being juiced up by a friendly score, Jojo Rabbit will continue to bounce in your head as a richly humorous wartime story of humanity and love. Jojo Rabbit absolutely deserves a 9/10. Do you agree with my review? Comment below and let me know what you thought of 2019's Jojo Rabbit.