Star Wars: Episode IX – The Rise of Skywalker
The Clumsy Finale That Passes in Lightspeed
43 years after a young director named George Lucas would show the world his magical space opera, the sci-fi epic known as Star Wars, the saga would finally come to a close. The franchise that started with Lucas ends with Disney, with the Skywalker saga's last director being J.J. Abrams. Through all three trilogies, the bad-mouthed prequels, the nostalgic originals, and the controversial sequels, Star Wars has always had at least one aspect in its universe that appealed to people. Star Wars surrounds and binds us. Unfortunately, this beloved episodes conclude with a painfully hyper-edited, ignorant, and downright messy finale.
Returning from the highly successful beginner of this sequel trilogy, Star Wars: Episode VII – The Force Awakens, director J.J. Abrams leads the effort in desperately trying to secure an appropriate and satisfying conclusion in his Frankenstein's monster of a film. Returning cast members from Star Wars Episode VIII – The Last Jedi include Daisy Ridley, Adam Driver, John Boyega, Oscar Isaac, Anthony Daniels, Mark Hamill, Carrie Fisher, and Kelly Marie Tran. The cast is joined by newcomers Keri Russell, Richard E. Grant, Naomi Ackie, and franchise veteran Billy Dee Williams, alongside Ian McDiarmid as he makes a triumphant, sinister return. Star Wars: Episode IX – The Rise of Skywalker is written by J.J. Abrams and Chris Terrio (who had previously written Argo, Batman V Superman: Dawn of Justice, and Justice League).
Set one year after the events of Star Wars: Episode VIII – The Last Jedi, the Resistance has found itself preparing for the ultimate danger when a new threat arrives, alongside Supreme Leader Kylo Ren and his court of dark side warriors, the Knights of Ren. Rey, now a true Jedi, is finally joined Poe Dameron and Finn as the trio finally embark on a mission together. While the team rushes to find the key to destroying the sinister threat and simultaneously avoid the clutches of the First Order, Rey and Kylo Ren continue their force bond communication, each of them learning more and more about each other. With secrets and long overdue answers to burning questions along the way, this rollercoaster ride of a blockbuster amounts to a bombastic third act that will either please or disappoint fans.
The actors are a huge positive in this film, they manage to survive with what they are given in the script, especially Adam Driver, who has solidified his character as the best part of this trilogy. The visuals are fantastic as well, with both the practicals and digital effects working hand in hand to create a beautiful addition to the Star Wars universe. John Williams returns for his final outing as a film composer, delivering an intelligent score, rather than tossing in random motifs and suites to emit fandom response. "Anthem of Evil", "Fleeing From Kijimi", and "A New Home" are a few standout tracks from the Williams' final score. On top of this, the film does handle Carrie Fisher's scenes well with what they are given to work with, the scenes with General Leia, for the most part, don't feel out of place.
In contrast to its positives, which are unfortunately outweighed by the negatives, this film feels as if it is a watered down version of a much longer film. In most of the action scenes there is always a cut interrupting the action, making most of it hard to follow. The dialogue can also be laughably bad, which doesn't work well with a messy plot that drags on with multiple macguffins. Furthermore, this picture ignores most of the rules and logic that the past films have established and adhered to over the years. It feels as if J.J. locked himself in a box and ignored all established lore and history in the Star Wars universe when writing this film. Beyond that, this film also asks a lot more questions than it answers, which makes the film increasingly much more frustrating to watch. The sci-fi blockbuster also uses every chance it gets to backtrack on events and ideas that originated from the predecessor, Star Wars: Episode VIII – The Last Jedi. Overall, Star Wars: Episode IX – The Rise of Skywalker is overwhelmingly beautiful, messy, and disappointing, earning a 5/10. Do you agree with my review? Comment below and let me know what you thought of Star Wars: Episode IX – The Rise of Skywalker. Thank you for following me on my journey to the end of the Skywalker Saga!
About the Writer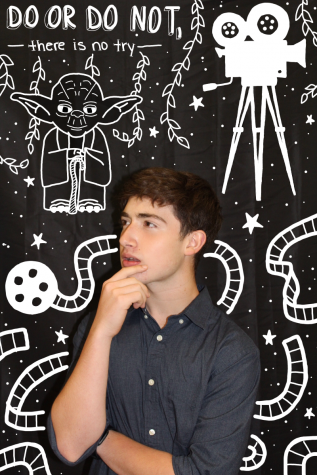 Samuel Villagra-Stanton, Movie Critic
Samuel Villagra-Stanton can never be president because he was born in Linares, Chile.  Sam has a lot of interests, such as film, Star Wars, and drawing....