Adams Students Shine at Winter Concert 2019
On Sunday, December 15, 2019, John Adams High School hosted the annual Winter Concert. The show choir, concert choir, and mixed choir all came together to offer an amazing and cheerful experience for families and students in the school.
The night started out with two amazing opening numbers by the Adams show choir. The classic songs "Sleigh Ride" and "Let It Snow" created a cheerful ambience in the audience. This was followed by the concert choir's interpretation of "Ríu, ríu, chíu," a popular Spanish Christmas carol. The concert choir also performed a magical version of "Angel Alleluias." 
Later, the boys of show choir sang "Mistletoe" by Justin Bieber, a modern holiday classic featuring a solo from senior Aidan Ross. Then, the girls of show choir shared a beautiful version of "All I Want for Christmas Is You" by Mariah Carey, another modern classic. Makiah McCain, Issanae Bailey, and Anikah Burge shined in their solos during the song. To wrap up the show choir's performance, the boys and girls came together to perform "Jingle Bell Rock" with an incredible dance routine courtesy of student choreographers Ellen Graff, India McKinney, Teodoro Reimbold-Thomas, George Ruscio-Atkinson, Monica Caponigro, Jordan Mihut, and Brigid Reilly. 
Next, the mixed choir performed soothing renditions of "Carol of the Bells" and "All on a Starry Night." Then, the show choir once again came out to perform "Mary, Did You Know." Last but not least, all of the choirs joined forces to conclude the concert with "Christmas Time Is Here."
The new choral director, Dr. Caleb R. Wenzel, shared a few words about the difficulty of transitioning into the school and the changes the students had to face the last few months. The students were left without a director for the first few weeks of school. Then, they had to adjust to the styles of the new director, which was a major change as they were already so used to their previous director, Dr. Donald Moley or "Doc." Dr. Wenzel then took a moment to thank all those that were able to attend and support Adams's musical program. He was sure to acknowledge Jeff Kroger of SBCSC media services, the John Adams Parents Group, Joe Crimmins, and Becky Reimbold, among others. 
The show was an incredibly great way to get into the holiday spirit and to take a relaxing break from the stress during the holiday season. The songs performed by the various choirs definitely spread joy and cheer to all those who were able to attend. 
About the Writer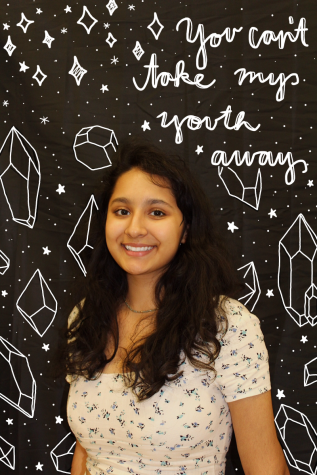 Vanshika Dixit, Reporter
Vanshika Dixit is a junior in the full IB program and is in her 2nd year with the Tower team. Originally born in New Delhi, she moved to the United States...