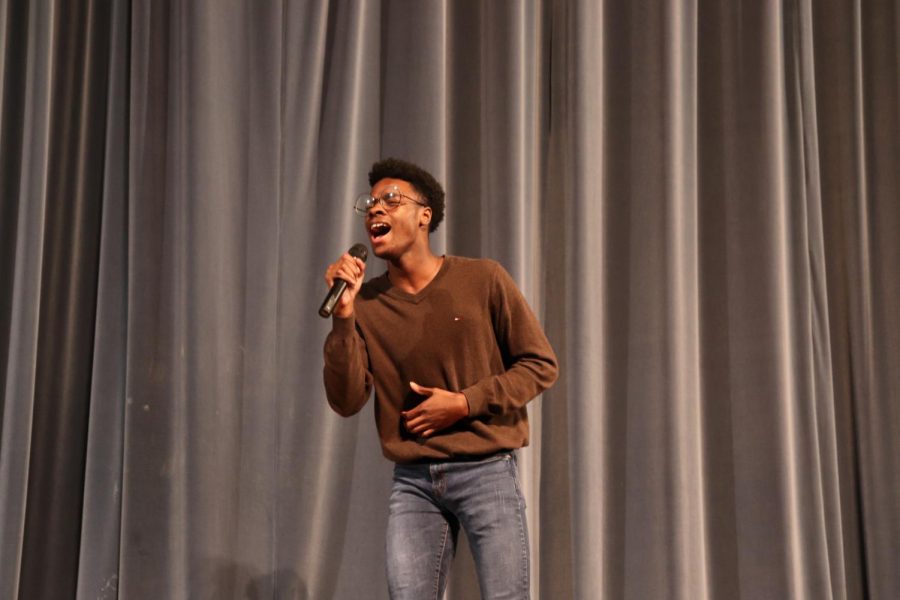 Secilia Scheffler
David Smith and Issanae Bailey have sung their way through Adams for the last four years, proving to be some of the most accomplished and talented artists from the school. On November 21st, David won the 5th annual Tower Rock, after placing a close second in previous years. This isn't the end of the road for David though – he wants more as a singer, improving and honing his talent. Currently, David has been spending a lot of time in the recording studio, trying to truly develop his craft and even beginning to compose some of his own songs. 
In 2017, David participated in American Idol, and although he did not win he made connections within the music world and significantly developed his performing skills. He first sent in an audition tape and sang in the local Michiana American Idol in front of several local judges, including Darryl Buchanan, a South Bend native who both performs frequently and produces his own music. In the first round of auditions David won the opportunity to travel to Nashville, Tennessee to perform in front of the executive judges of the show. "Meeting Daryll Buchanam changed [me]. He led me into my performing, because before that I wasn't really performing anything. I was just singing, had my arm on my waist, and singing scared. He got me out of my comfort zone, so I give him credit for that."
During high school David has also been an active member of the track team, and hopes to run collegiately during college. One of his best memories during high school was his first interaction with Coach Scruggs, who immediately noticed his talent for running during an informal race and recruited him to join the track team, which he has participated in all four years of high school. 
Both David and Issanae have been in the Adams Show Choir for several years, participating in many Indiana State School Music Association competitions [ISSMA] and performing in various talent shows across the city. Issanae remembers fondly her first time performing in the ISSMA competition, before she had joined Show Choir."I did a solo and got a perfect score at Regionals. That was really fun for me and I was so happy." Despite this, they both were somewhat disappointed in the ensemble portion of ISSMA: "If I'm not doing a solo then I know that I'm not going to get the score that I want. It's a fun experience to go out of town with all of your friends, but what's not fun about it is performing when you know you're unprepared.," says Issanae. David feels similarly, but welcomes the chance it provides to meet new people. "Last year we met this girl and sang with her for a couple of hours and almost missed our performance," he says, "but it was still fun." 
In their futures David and Issanae both hope to continue with their passion for music in college. "Wherever I go I know that I'm going to try to have music follow me, because that's my life. I don't know what I would do without it, just to get better and improve my voice and control," Issanae comments on her future goals. Their goals in music are long-term: "[I hope to] be singing and performing around a city other than South Bend, get out of Indiana," David comments when asked where he sees himself in five years. Issanae also wants to leave Indiana and cultivate her success somewhere else, continuing with her passion for music.
Music has had an undeniable influence on their high school careers. "If it wasn't for choir I would probably still be a really quiet kid and not talk to anybody," David says. Issanae seconds David's change: "When I first met him he was really shy, and then after a while he started to get out of his shell, and he's definitely grown; he's not that shy kid anymore." Issanae has also grown through music and the challenge it provided her. "I've always been singing my whole life, and to come from schools where I've always been the best to come somewhere else where I actually have competition was new for me. I've had to learn to work harder to still be the best, even if I'm not. I know that I need to challenge myself and try harder. There's always room for improvement."