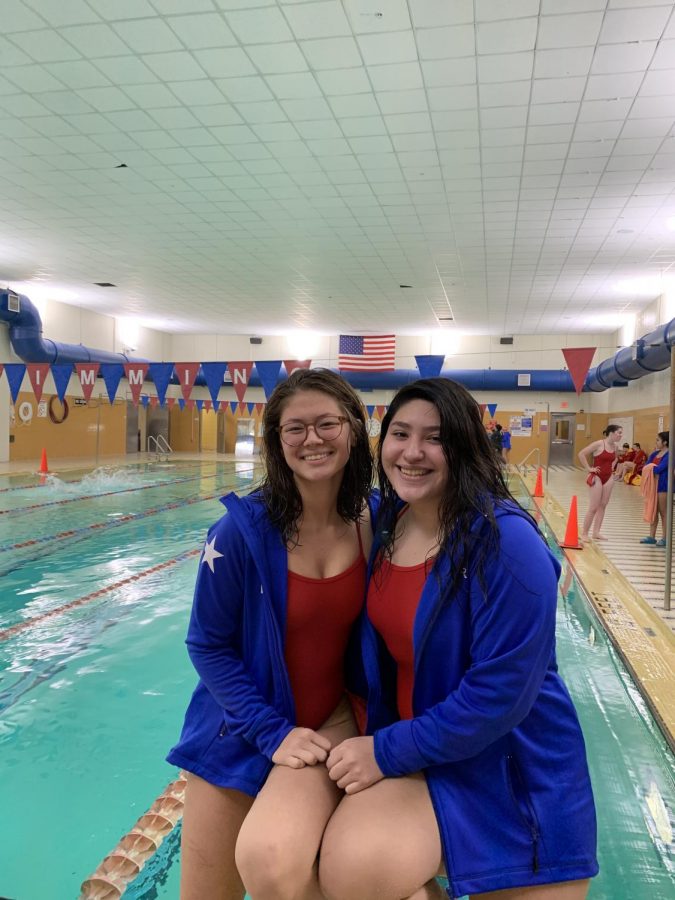 JAWS, or "John Adams Women Swimming," has a record-breaking amount of girls eager to swim this year, ranging from experienced swimmers and girls jumping in the water for their first time. Leading the team this year are seniors Tania Gonzalez and Eamin Lynch, the two captains of JAWS. 
Tania Gonzalez has been swimming competitively for four years, or since freshman year, but her swimming career actually commenced as a 6 year old at the YMCA.  "I actually began swimming when I was really young…I would go every year that they offered the lessons." Tania's position as one of the captains for JAWS is all thanks to her mom, who never knew how to swim and wanted her daughters to learn how. It wasn't until high school that it really hit her that she could swim competitively, and after some initial nerves at the start of the season, Gonzalez dropped 13 seconds in the 50 freestyle by the end of the season, and even made it to sectionals. 
Eamin Lynch, on the other hand, has a very similar swimming upbringing. ¨I started competitive swimming when I was younger, probably around 6 or 7 but stopped after a few years. I started back up again freshman year and just kept going,̈ and unlike Tania ́s mom encouraging her to swim, it was Eamin's dad who pushed her to join. ¨He swam competitively through highschool and I think he wanted me to have the same experience. I've also never been very good at ball sports so after cross country ended I thought swimming would be fun.¨
Both girls recall being afraid of the seniors as freshmen, but saying that as captains they try to be more friendly to underclassmen now that they are seniors, in order to make sure no one is nervous. 
The relationship between coaches and swimmers is great, with both captains saying that they enjoy coming to practice and being with their teammates, with Lynch saying that ¨it's really helpful to have a place I can just act stupid and have fun without worrying too much about anything else.̈ Gonzalez adds that she enjoys ¨bonding with the other girls that are going through the same accomplishments, struggles, and pain as I am because I feel like you aren't able to do that with just anyone.¨ 
Along with being four year swimmers, the JAWS captains participate in a variety of clubs and extracurriculars, and both are partial IB diploma candidates. They are also both drawn to the arts, with Gonzalez saying that her favorite classes are ceramics, yearbook, and IB art because she is able to express her creative ideas and ̈isn ́t restrained to do things that we actually like unlike other classes that make me do tedious and unnecessary work.̈ Lynch enjoys saving time for her biggest passion which is art, and ̈enjoys keeping her schedule simple to expand her interests in art.¨ 
When it comes to advice to underclassmen, both Lynch and Gonzalez have similar tips. "Don't go crazy and join as many things as possible,̈ says Lynch. ̈Yes, it might look impressive on a college app but you have to make sure you have fun first. Pick two or three things that you like doing or find worthwhile and stick with them. It's miserable to be constantly running around doing everything.̈ Gonzalez similarly says, ̈there's no point of staying up so late to cram in all of the information for a test because if you didn't know it before you're not going to learn it in one night. So call it a night, get some rest and hope for the best.¨ She also adds, ̈When it comes to a social life get yourself friends that are in the same sport as you or season, that way they have no social life as well so you can both struggle together.¨ 
Tania is planning on attending Bethel next year and studying business and she´ll also begin practicing studying cosmetology, and Eamin is excited to continue her passion for the arts, and hopes to go into studio arts. 
We at The Tower wish both girls good luck next year!