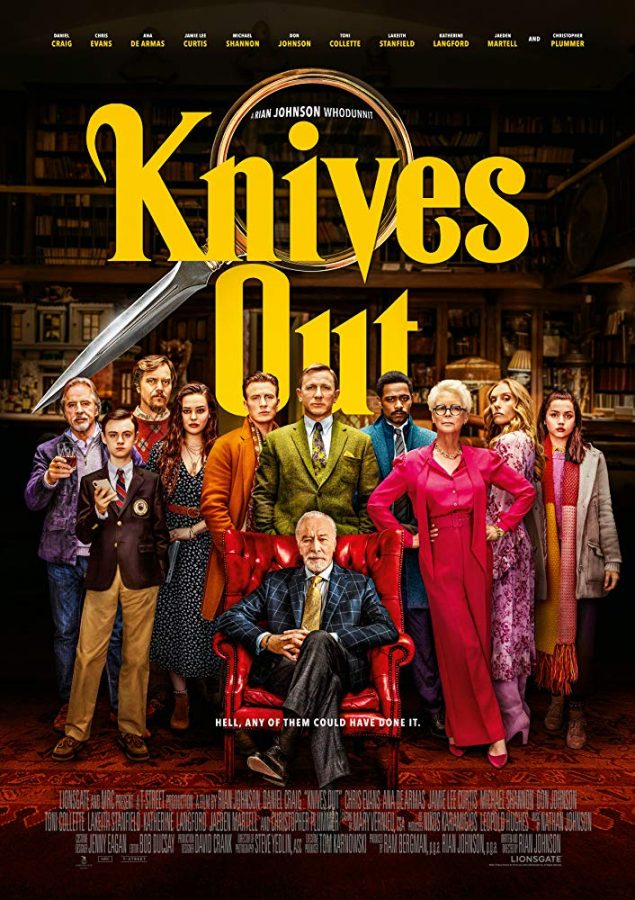 After the controversial release of director Rian Johnson's entry into the Star Wars universe with Star Wars: Episode VII – The Last Jedi, Johnson would seemingly leave his independent roots behind, and his career would be hindered with the bitter taste of the Lucasfilm fiasco. That was the idea before 2019's Knives Out, Johnson's passion project that flips the classic 'whodunnit' genre on its head. With its main marketing strategy of showcasing its star-studded cast, and the promotion of its 99% rating on 'Rotten Tomatoes', Knives Out seemed like a promising return for the now notorious director of Looper, Breaking Bad, and the infamous Star Wars: Episode VII – The Last Jedi. This two hour and 10 minute atmospheric political commentary, and triumphant return of Rian Johnson is a must-see.
The standout of the star-studded cast, which includes Daniel Craig, Chris Evans, Jamie Lee Curtis, Michael Shannon, Don Johnson, Toni Collette, Katherine Langford, Jaeden Martell, and Christopher Plummer, is Ana de Armas as Marta Cabrera. De Armas, who plays the Ecuadorian immigrant that worked for the deceased, serves as an emotionally dynamic protagonist who knows the ins and outs of the Thrombey mansion. In the wake of the suspected murder of Harlan Thrombey (Christopher Plummer), world-renown detective Benoit Blanc (Daniel Craig) is called in to evaluate each of the family members: Linda Drysdale (Jamie Lee Curtis), Richard Drysdale (Don Johnson), Walt Thrombey (Michael Shannon), Ransom Drysdale (Chris Evans), Joni Thrombey (Toni Collette), Meg Thrombey (Katherine Langford), and Jacob Thrombey (Jaeden Martell). Each character feels fully fleshed out with their own secrets and desires in the family fortune and will.
Besides the captivating twists and turns of a wildly involved plot, Rian Johnson's cinematographer, Steve Yedlin, showcases his strength behind the camera with beautiful shots to evoke the grand feeling of the Thrombey family and household. Alongside this, the film's score Nathan Johnson wonderfully accompanies the murder mystery adventure. With a charming cast and an equally talented crew, Knives Out easily gets a 9/10 for its neat reinvention of the whodunnit murder mystery formula. Do you agree with my review? Comment below and let me know what you thought of Rian Johnson's Knives Out.