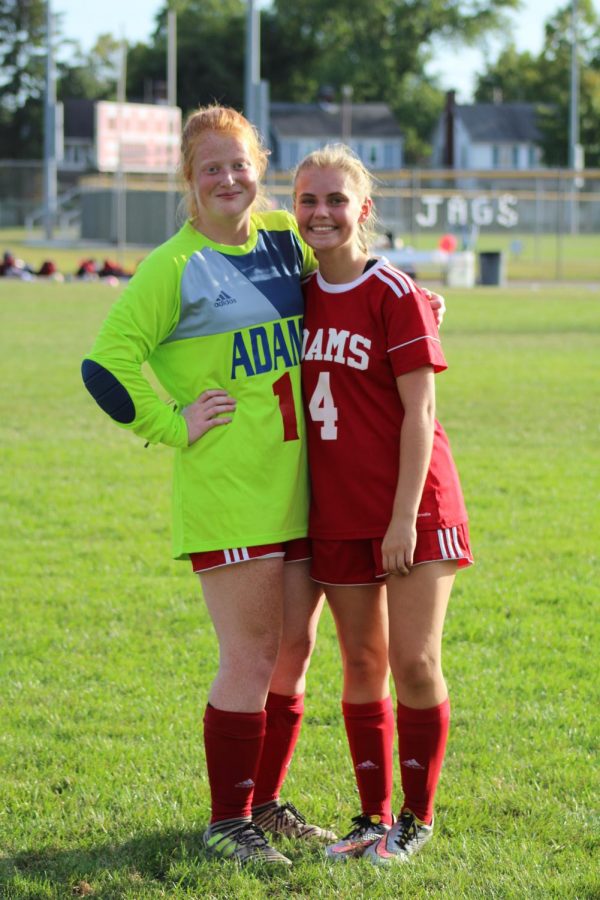 Senior night flew by for the John Adams Girls' Soccer team, when only two seniors, Ema Amstutz and Logan Hansen, were there to represent their graduating class. Contrary to previous years, the girls are the only seniors on the soccer team. 
Logan Hansen, goalie, started playing soccer when she was six, and has continued to play for the past four years at Adams. After seeing her older sister have the opportunity to play and be apart of a new kind of family, Logan knew she wanted to play soccer for Adams. "My favorite memory from the past soccer season was when we did karaoke on the varsity bonding trip." Besides being in the goal, Logan is also a member of National Honor Society and Passion Project, and is a part of the IB program. Her favorite part of her high school career has been all the friends she has made and the people that she has been able to meet. After graduating high school, Logan plans on attending Ball State and wants to major in interior design. "I have always wanted to have a career in a creative profession. I've always been interested in being able to design a functional and homey spaces, which is way interior design is the right path for me." Senior year has been full of emotions for Hansen, like it is for many seniors heading towards  a new path in life. "My advice for upcoming seniors would be to not take anything for granted."
Originally from Van Wert, Ohio, Ema Amstutz has come a long way to be a John Adams Eagle. Ema has been playing soccer since she was three or four years old. She had always played soccer growing up, so Ema figured joining the soccer team her freshman year would be a great way to get involved in the school and meet new people. Ema has played for the past four seasons, despite many concussions and injuries. "It's hard to think of my favorite memory from soccer because of all the concussions I've had, but the team bonding trip we took this past summer was really fun." When Amstutz is off the field, you will probably see her studying for her next test. She is involved with National Honor Society, National Technical Honor Society, and Passion Project. Amstutz is an honor roll student at the top of her class that also is a part of the IB program, along with Dental CTE at Clay. Through her Career Technical Education program, Ema is now CPR, infection control, and radiology certified. When she graduates, Ema is on track to receive Academic Honors, Technical Honors, and Partial IB Certificate."My favorite part of John Adams is probably all of the clubs and other programs that our school offers. There is something for everyone." Ema's favorite memory from her four years of highschool was when there was a huge snowstorm and we got almost two weeks off of school. After her high school career, Ema plans on going to IU Bloomington, IUPUI, or Ball State to major in Pre Dental, and has already received several scholarship offers. "My advice to upcoming seniors would be to actually take school seriously and remember that your absences count." School is not the only thing Ema excels at. She is able to express herself through creative processes like music and art. Amstutz plays piano and a little bit of guitar, and also is a very talented singer. Music is also an important part of Ema's life. She views music as a creative outlet, and a way to destress from the real world. Although she only plays music for fun with her friends, she has a real talent for it. "I like music because it is a way to relax and focus on something other than school and assignments. It's a way to relate to other people without necessarily knowing anything about them."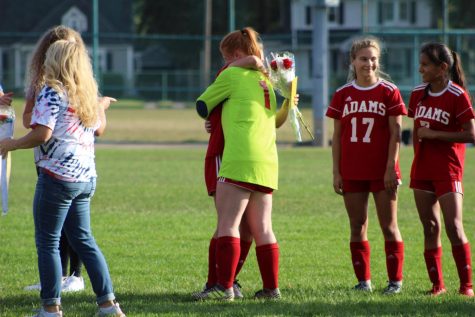 Ema and Logan are teammates on and off the field. After becoming friends through soccer, the girls have become close throughout the years. "Logan is really dedicated when it comes to soccer and school. She's a good person to talk to when you need advice, and a great friend overall," Ema says about her fellow classmate. "Ema is a bubbly, intelligent, strong, and powerful woman," Logan says. Both girls have an incredibly bright future ahead of them, and will accomplish great things in the years to come.