The 2019 Guide to Fall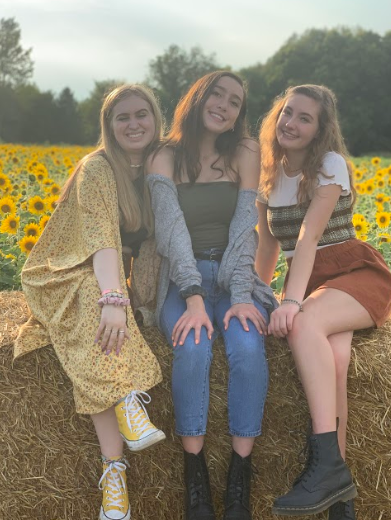 As the school year kicks off, and the temperatures begin to cool, it's clear that summer is coming to an end. The days are getting shorter and our nights becoming consumed with homework. I often grow pessimistic with the changing of the seasons, as summer's joyful ambiance begins to fade. Only, I tend to forget about the excitement that autumn brings. With fall right around the corner, there's so much to see and do. From Pumpkin Spice Lattes to oversized sweaters, fall really does have it all. If you're looking for fun fall activities, fall fashion tips, or even wondering which seasonal Starbucks drink to try, you've come to the right place. I hope this guide will serve you well in helping you to enjoy a fun and exciting fall. 
Fall In South Bend
If you're searching for fun things to do in South Bend this fall, look no further. While many fall activities such as picking apples or taking haunted hayrides, require quite a drive, you can find many fun things to do this season without even leaving South Bend.
Fall is a great time to stay active, spend time with family, and enjoy nature. Rum Village provides the perfect outdoor activity for fall, with their Aerial Adventure Park. Bring your family along and experience ziplines and obstacle courses amid the trees. With customizable courses ranging from sixteen to sixty feet above the ground, the park is suitable for anyone eight years old and up. It's a perfect way to stay active this fall while enjoying family fun. 
Downtown South Bend First Fridays: Oktoberfest
On the fourth of October, the first Friday of the month, Downtown South Bend will 
be holding their Downtown Oktoberfest. Stop by to enjoy fall-themed food, fun activities, and local art and music. Many restaurants provide deals, there is plenty of live music, and free tours of the historical Hoffman Hotel will even be offered. 
No fall guide would be complete without mentioning the classic pumpkin patch,
corn maze, or hayride. What if I told you that you could experience the perfect fall day, without even leaving South Bend? Well, at Thistleberry Farm, they've got everything fall. Pick a pumpkin, visit farm animals, get lost in a corn maze, or take a ride on their "Cow Train". Take your friends or family and enjoy a day at Thistleberry Farm for the typical fall experience. 
Fall Fashion
One of my favorite things about fall is the new fashion trends it brings. After a hot summer spent in shorts and tank tops, the fall jeans and sweaters bring make for a nice change. Below I've highlighted some of my favorite pieces to wear in the fall. 
On a chilly fall day, you can never go wrong with an oversized sweater and some leggings. Pair the outfit with some boots, and it makes for a perfect fall look.
My favorite pants for the fall would have to be mom jeans. I typically wear them with a fitted sweater or sometimes tuck in a cute graphic T. 
When it comes to fall, I think that denim jackets are absolutely perfect. Not too heavy, and not too light, they provide just enough warmth for fall breezes. I think they look particularly cute with black jeans, but in my opinion, you really can't go wrong when it comes to denim jackets. On fall mornings, I love to throw an oversized denim jacket on top of any outfit.
Starbucks Fall Favorites
Starbucks, known for their seasonal drinks, gains lots of publicity as fall rolls around each year. Their fans go crazy over the Pumpkin Spice Latte and other fall treats. As the menu can sometimes be overwhelming, I've highlighted some Starbucks fall favorites.
Perfect for a cold and rainy day, the flavor is a combination of pumpkin, nutmeg,
and cinnamon. Made to mimic the flavor of pumpkin pie and topped with whipped cream, it's very sweet. The Pumpkin Spice Latte is my go to warm drink in the fall. 
New to Starbucks' menu this year, the Pumpkin Cream Cold Brew has quickly
become a hit. The original Starbucks Cold Brew is sweetened and topped with a Pumpkin foam, adding a twist to an otherwise simple drink. I think that it's a perfect fall drink for those who favor iced coffee over hot coffee. 
My personal favorite Starbucks snack, the pumpkin scone, is perfect fall treat. It is simply a pumpkin scone topped with vanilla icing, but delicious nonetheless. 
Fall is definitely one of my favorite seasons. With so many fun things to do, the possibilities are endless. I can't wait to enjoy the weather and spend time with family. I hope you'll do the same. Happy fall!