ARIZONA BABY Music Review
Hang on for a minute...we're trying to find some more stories you might like.
This week I decided to review a solo album from an artist that is part of a group I really like: ARIZONA BABY by Kevin Abstract. Abstract is the leader of a group named BROCKHAMPTON, a self proclaimed boy band that preaches their goal of redefining the term, and is known for inclusivity in their band composition. As he is the leader of the band, his solo albums have clear inspirations from his time in BROCKHAMPTON, but with his own personal twist. This culminates to an album that is fairly familiar to fans of BROCKHAMPTON, but is interesting and engaging, because of the nuances to Abstract's personal style.
This album has a very strong start with a song titled "Big Wheels." This is one of the most similar songs to his work with BROCKHAMPTON. Between the use of a limited, yet impressively catchy, selection of beats, the upbeat electronic sound, many samplings, and almost spoken word lyrics, the song is very reminiscent of a lot of his early work with the band. The song as a whole is just very fun to listen to and provides a strong base for the rest of the album to stand on. I am a strong believer in that for an album to be successful it needs to have a strong first song or no one will continue past that song. "Big Wheels" does exactly that. This song has another common feature of BROCKHAMPTON's work, a seamless transition into the next song, "Joyride."  The second song on this album stands out the most in my opinion, when I think about what the album sounds like. There is very little silence in this song, it sounds full at all times. While this is almost chaotic in a sense, it fits Abstract's style really well. While the beat is again similar to what fans would hear in his group's work, what he does with the beat is very interesting. He uses certain beats at different times to section off parts of the song and portray a sense of progression throughout. For example, the beginning starts with an upbeat fanfare with trumpets. As the title suggests, this song is about a joyride and the fun that accompanies a joy ride. This beginning beat really portrays the exhilaration Abstract, or the speaker in the song, feels when on a joyride. He then changes the the beat to be a bit more calm and subdued. I think this is used to portray what coming down off the high of a joyride gives Abstract, but, also to reflect why Abstract is going on a joyride in the first place. The lyrics themselves are kind of dark at times, and this makes me think the joyride is used as a tool to escape the difficulties in life.
The third song is named "Georgia." This song is slower than the first two. This song is about Abstract reflecting on his life and his time living in Georgia with his sister after running away from home. This song is very sentimental in tone, but is hopeful for the future. While less upbeat than the first two songs, "Georgia" is another great song on this album. "Use Me" is in the middle of the album and has one of the most unique sounds on this album. While "Georgia" is sad in a sentimental way, "Use Me" is somber and almost angry even. It is one of the shorter songs on the album too and, honestly, that is my only really problem with this song, I wish it was just a little bit longer. The lyrics are dark and the beat is crude. This gives the song a painful atmosphere, as Abstract talks about the ways he has been used in his life. This song is very different from the rest of the album and I love it. The second to last song, "Crumble," is another that sounds a little bit different from the rest of the album but is good nonetheless. I will be honest, even I am not completely sure about what this song is about yet. As far as I can gather it is about Abstract's past relationships and him reminiscing about his past. Nonetheless, this song is very catchy and the sound is really pretty. This is one of the most peaceful sounding on the album.
ARIZONA BABY is a fantastic album from start to finish. To prevent myself from rambling I only spoke about the highlights, in my opinion, of the album. However, I believe the whole album is definitely worth listening to. My only issue with this album is the length. It is just over 32 minutes. However, there's almost no wasted space. All 32 minutes is good so I am willing to give it a bit of a pass. This album is fun and catchy with the familiar sound of BROCKHAMPTON, which I really enjoy. It does a lot of things well and is put together phenomenally. Therefore, I would probably rate this album a 7.5/10. There is no song that just completely blew me away so I believe a 7.5 is a fair score for the production and the production as a whole. Agree? Disagree? Leave a comment below and let me know what you think!
About the Writer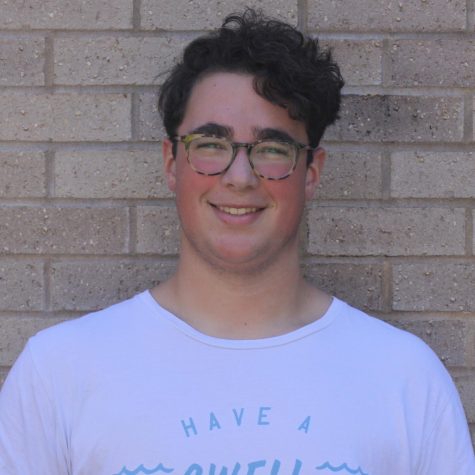 Matthew Carbonaro, Media Editor
Matthew Carbonaro is a junior at John Adams High School involved in many activities inside of school. Be it in marching band, Science Olympiad, or being...