South Bend Central High
South Bend Central High School was the gem of the city back in the mid-1900's. Built in 1872, the first official building for South Bend High School graduated two boys- Charles Henry Bartlett and William Mason Green- as well as two girls- Ida Ellsworth and Lillie Spain. Central was South Bend's only high school as of 1913, and renamed South Bend Central High School in 1924. Enrollment pushed towards 2,000 in the early 1950's, educating both white and black students, despite looming problems involving segregation in our country. Central's integration was pivotal to the time period, especially since the student body at the time believed that "color was secondary", as said by Melvin Holmes, Central class of 1958. South Bend Central graduated its last class in 1970, before being added to the National Register of Historic Places in 1985, and later being renovated to apartments.
Before it closed its doors, Central High School racked up an impressive number of athletic titles, including 14 IHSAA State Championships, the most of any past or current South Bend school. Although Central won championships in baseball, boy's swimming, and boy's track and field, the school is most notable for its basketball program. The Central Bears basketball team obtained 2 state championships, 4 semi-state championships, 12 regional championships, and 28 sectional championships. The program also claimed notable names such as John Wooden, who coached basketball and baseball before moving on to the UCLA Bruins basketball coaching staff. Central also boasts Michael Warren, who was on the basketball teams at both South Bend Central and UCLA, under Wooden.
While Central was monumental in racial integration, they also included girl's sports before Title IX was brought into effect in the 1970s. Central had the Girl's Athletic Association [GAA], which was founded in 1905.. In 1939 the G.A.A. sports included table tennis, field hockey, volleyball, and swimming. The athletes earned points for each sport in which they participated, and were awarded with a pin, a sweater, or a ring. The volleyball team remained undefeated from 1948 to 1955 when competing with other schools in the area. Water ballet was introduced in 1947, and the association was reorganized in 1963 and renamed the Central Girls Club by teacher Miss Betty Mathews, who also brought on the bowling, swim, cheer, and dance clubs.
John Adams principal James Seitz believes it is important to talk about Central and the importance of it in relation to South Bend. He decided to keep the legacy alive this February 2019 at the Adams vs. Riley boys' basketball game. Both teams, including the cheerleaders, wore South Bend Central Bears throwback uniforms. Many Central Alumni were invited to celebrate their school with memorabilia in the Adams B gym, the playing of the Central School Song by the John Adams Pep Band, and a luncheon celebrating the school's history the following Saturday. The throwback game was a way to bring back history and collaborate with students as well, as a memory book and video were created by photography students from Adams and Video CTE students from Riley, respectively. Mr. Seitz felt this was one way to go about doing a "feel-good story of what South Bend used to be."
Although Riley got the best of Adams, claiming the 85-70 victory, many Central alumni enjoyed the gesture and getting to remember, as Mr. Seitz puts it, "the good old days."
Local sportscaster, Chuck Freeby put it best when he said, "Riley won on the score board but the real winner was the city of South Bend."
About the Contributor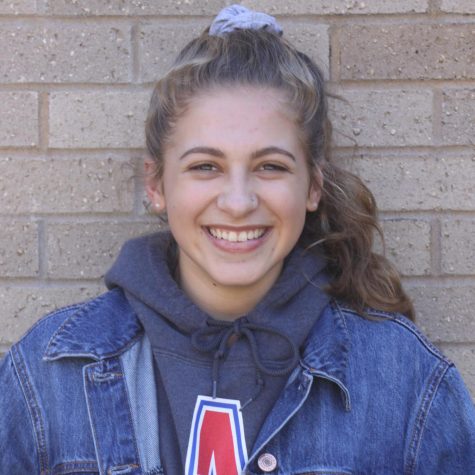 Anna Fuller, Photographer / Reporter
Anna Fuller, one of the many Annas here at Adams, is a Junior this year, and is acting as a photographer and staff writer for The Tower. Her Adams experience...